Caretaker remanded on trafficking charge after Norton St drug bust
A Norton Street caretaker was remanded to prison yesterday after being arraigned on a narcotics charge.
Errol Kelier, 53, of 47 Norton Street, Wortman-ville, pleaded not guilty to the allegation that he, on February 3, at Norton Street, had in his possession 176 grammes of cannabis, for the purpose of trafficking.
It is the police's case that the cannabis was found in the second bedroom on the top flat of the Norton Street property that Kelier cares for.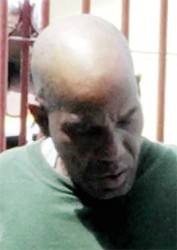 At the Georgetown Magistrates' Courts, police prosecutor Deniro Jones said that police ranks, acting on information, went to the house and conducted a search in Kelier's presence. He identified himself as being responsible for the property.
Kelier's attorney, Mark Waldron, in an attempt to secure him bail, told Magistrate Ann McLennan, who presided over the man's arraignment, that his client was not the only occupant of the house at the time of the search. He said the fact that the narcotic was found in a bedroom not occupied by his client and his wife, amounted to a special reason for bail. At that point, Jones challenged Waldron's request, saying the fact that police went to the home acting on information, and conducted a search in the presence of Kelier, who identified himself as the custodian of the property, warranted him being incarcerated.
Subsequently, the Magistrate ruled that no special reason was given by the defence for bail to be granted. The case was adjourned until February 17 for report and fixtures.
Most Read This Week