A 47-year-old man died at the Georgetown Public Hospital (GPH) yesterday after spending 15 and a half hours at Accident and Emergency (A&E) and his wife blames lack of medical care for his death.
Shevon Layne of Bartica told this newspaper via a telephone interview yesterday that her husband, Brian Aaron, a taxi driver, spent hours at A&E without being properly attended to.
Contacted, Chief Executive Officer of the GPH Michael Khan said the hospital will issue a press release on Tuesday following a report from the doctor who was present at A&E on Friday night. He added that at A&E, the most ill or severely injured person is attended to first by the doctor(s) and nurse(s) on duty.
Layne related that on February 14, her husband took ill with a severe fever and she got treatment for his fever at a pharmacy in Bartica.
She said he briefly felt better but relapsed the next day with stomach pain and shortness of breath and she decided to take him to the Bartica Hospital, before taking him to the Leonora Hospital. There, he was treated for gas and referred to the West Demerara Regional Hospital (WDRH) for an ultrasound.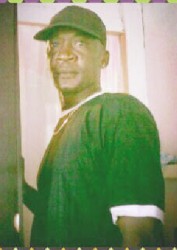 She said that on Friday, she took her husband to WDRH and subsequently to a private hospital in the city after she was told at WDRH that there was no gel to perform the ultrasound.
While at the private hospital, Layne said, she decided to get a second opinion on her husband's condition, so she had the doctor at the hospital do a blood test, an ultrasound and x-ray.
After the examination, the doctor at the private hospital informed her that her husband's kidneys were damaged. The doctor then referred her to GPH, as treatment at the private institution would have been expensive.
Layne told Stabroek News that she arrived with her mother and husband at the GPH around 3 pm on Friday. She said the family waited with Aaron at A&E for two hours.
He was only attended to after her mother called someone she was familiar with at the hospital and asked for help. A nurse then took Aaron to the treatment room and supplied oxygen to him, Layne said.
Around 8 pm, she said, her husband was given a blood test and family members were told that they had to wait at least three hours for the results.
Layne added that around 1 am she began to enquire about the status of her husband's treatment process. "No one was giving any answers, they were treating us like pigs," she said.
She said her mother subsequently made another phone call and they were attended to again. Around 1.35 am yesterday, they were told that Aaron's kidneys, lungs and heart weren't functioning properly.
Aaron was returned to the treatment room after being out for some time and he was given oxygen a second time but this      time, Layne said, Aaron complained that he was not getting any oxygen.
She said she called on a nurse and a doctor to check on this and they both refused. Later that morning she and her mother were told to go home and return later on to the hospital. They were also told that Aaron would be sent to the ward since he was being admitted because of the severity of his condition, Layne said.
When the family returned at 6 am, Layne said, they found Aaron still sitting in the chair they had left him in, taking oxygen. She said she enquired why he was not yet placed in a ward and she were told there was a shortage of beds. Khan substantiated this when he spoke to this newspaper and added that hospital officials are working to improve the situation.
Layne said she later left for half an hour to get tea for her husband and returned to find that he was no longer in the chair and no one could find him. She said a nurse later found him under a bed and attempts were made to resuscitate him but he was already dead.
Khan said that staff at the hospital would have never done what was claimed by Layne and added that he believes they did everything they could to save Aaron's life.
Comments

Joe Root hit his 13th centuryfeatured   BIRMINGHAM, England, (Reuters) – England's Joe Root and Alastair Cook crafted superb centuries to lead the hosts to a commanding 348 for three on the opening day of their first day-night test against West Indies today.

A police officer helps evacuate people after a van crashed into pedestrians near the Las Ramblas avenue in central Barcelona, Spain August 17, 2017.
A post-mortem examination is expected to be performed on the body of housewife Janice Edwards, 38, of 121 'C' Field, Sophia, ECD, to determine the cause of her death.

A sketch of the proposed Curepe Interchange (Trinidad Guardian) China Railway Construction Corporation (CRCC) has been awarded a $221.7 million contract by the National infrastructure Development Company (Nidco) to build the controversial Curepe Interchange, the state company's chairman Herbert George has confirmed.

Legal Advisor to the Police, retired Justice of Appeal, Claudette Singh yesterday testified that there was insufficient evidence in the allegation made by Andriff Gillard of an alleged plot to assassinate President David Granger.