William Light, who was charged with the murder of two people after a chopping rampage on Russell Street in 2010 was yesterday sentenced to 47 years in prison by Justice Navindra Singh in the High Court.
Light had pleaded guilty to the lesser count of manslaughter in February, in the deaths of Cedric Blackman and Ann Cham-A-Koon on October 26, 2010.
A probation report, which was ordered by the court last month and read yesterday, stated that Light was a victim of mental illness and had been incarcerated several times in the psychiatric ward of the Georgetown Public Hospital.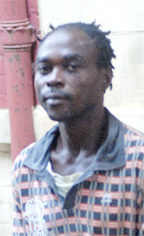 The report, which was read by a probation officer, indicated that Light would "trip out" when he did not get his way.
The report also stated that Light was isolated in prison because of his psychological problems.

Attorney Bettina Glasford, representing Light in association with Attorneys Maxwell McKay and Brendon Glasford, asked the court to consider the mitigating factors: that Light had acknowledged his wrongdoing and pleaded guilty to manslaughter saving the court the time of going through a trial.
She also said he had shown regret for the injuries he had caused and therefore urged the court to revisit his confession statement, paying due attention also to the probation report.
Prosecutor Dhanika Singh, however, stated that the act was unprovoked and two lives were lost. She said that from reports Blackman was always kind to the accused and had assisted him in whatever way he could. She added that two other persons were maimed during his attack.
When asked by Justice Singh if he had anything to say, a fairly calm Light stood up and told the court that he was sorry for what happened and begged the relatives to forgive him.
Justice Singh sentenced him to 21 years in prison for killing Cham-A-Koon and 26 years for killing Blackman. He received extra years for the death of Blackman because he was related

to him and also because Blackman had been kind to him.
Light was also accused of unlawfully wounding Radesh Persaud and Shawn DeSouza on the day in question with intent to commit murder.
Comments

Alliance for Change (AFC) leader Raphael Trotman yesterday said the diversion of billions to the security sector after the destruction of the Camp Street prison was partly responsible for the government not budgeting the full sum for severance payments to laid off sugar workers.

The police were up to yesterday afternoon still working to ascertain the motive behind the murders of Ambrose Baharally and Martin Godette, the Pomeroon farmers who were shot dead on Sunday and a potential witness was taken into custody to assist with the investigation.

Former President Donald Ramotar has accused the current government of accepting loans from India that he initiated except those pertaining to the rehabilitation of the sugar industry but State Minister Joseph Harmon says he is unaware of the claim and has urged that the former head of state prove it.

Omadat Persaud, who was on trial for raping a five-year-old girl in 2015, was yesterday afternoon sentenced to 45 years in jail after a jury unanimously convicted him of the crime.

The mother of Marlon Fredericks, the mentally-challenged vendor who was fatally shot by a member of the city constabulary on Sunday, yesterday called for justice for her son, while saying that an autopsy found that he died of a gunshot wound to his chest.