Patentia shop owner beaten, robbed
-suspect nabbed
A Patentia, West Bank Demerara shop owner was mercilessly beaten after she fought back against a burglar in the wee hours of Monday morning in her grilled-up home.
It was only after she was discovered battered that neighbours learnt that she had been robbed of over $400,000 in cash and goods. Her alleged assailant was apprehended a few hours later and is in now in police custody.
"I hear a noise", Milwantee Budhram, 61,  told Stabroek News yesterday. She said, before she knew it a man was in her bedroom pulling her down from her bed. "He start fuh beat meh", she recounted, adding that the man dragged her away from the bed and stuffed her mouth with clothes. Budhram said that the intruder then wrapped her bed sheet around her neck and choked her, demanding to know where the money was. She said, she directed him to where he could find the $400,000 she had in her bedroom.
Known as `Aunty Baby', Budhram, who was home alone, occupies the lower flat of a two-storey building.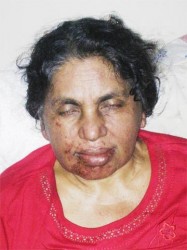 "He drag me by my hair" she told Stabroek News, "and pull me in this room (living room)".  She said the burglar then took the cushion from the couch, put her to lie on the ground, stuffed her mouth again with clothing and wrung her neck.
"Me and he start fuh fight", she said, adding that he then asked her if she wasn't dead as yet. Minutes later, Budhram said, she faked death by collapsing on the burglar. After the burglar apparently thought she was dead, he ran out of the house and into the shop a few feet away. He packed up a bag of groceries, a few Stag Beers, toiletries, vests and underwear and a box with change.  She said she then got up and made her way to the light switch, turned on the living room light and attempted to bolt the shop doors. However, the burglar had already damaged the locks. According to her, she then ran towards her gate, but only made it halfway before she was attacked by the bandit again.
"He drag me by my hair",  she said, adding that he took her back to the living room and proceeded to beat her again. He also asked for her son's cement money. Budhram said, she had no more money so the man beat her until she collapsed again. "Me stay silent one good fifteen minutes", she told this newspaper, until she heard no movement outside the house. Budhram said she crawled to her front gate that was locked and called for help. She said a man passing at the time, saw her and called out to her neighbours.
"When me come, me see Aunty Baby beat up bad", said one neighbour. Another neighbour said, "When me come, me start fuh holler." Neighbours said they discovered Aunty Baby at approximately 04:00hrs and called the police, before rushing her to the hospital.
A quick response from the police, relatives said, resulted in the suspect being caught in less than three hours. Relatives told this newspaper that the police found the bag the suspect had packed a short distance from Budhram's Lot 195 Fifth Street, Patentia Housing Scheme home. The tools used to break into the home were also discovered.
The family later found out that the man gained entrance to the home via a window on the western side of the house.
Budhram's son, Khemraj Budhram, who was out of the country at the time of the attack, said it was not the first robbery the family suffered. The only difference from four other break-ins was the brutal beating his aged mother endured. He praised neighbours for aiding his mother. He told this newspaper that he is a member of the community policing group. (Dacia Whaul)