AFC MP Cathy Hughes on Wednesday signalled that her party will not approve of the use of taxpayers' money if the National Communications Network (NCN) and the Government Information Agency (GINA) were to remain as "propaganda agencies" of the ruling PPP/C administration.
"…Let the PPP pay for this as none of the opposition political parties in this house have asked that Guyana's tax dollars be used to pay for their in house PR campaigns," Hughes said on day three of the budget debate.
She argued that the $200 million of taxpayers' money that the government has set aside to "promote itself is not only bare talks but it is only PPP talks….it seems the only group that can secure airtime on NCN is the government…No one really knows what GINA does and how whatever it does is supposed to benefit the people of Guyana, but the people are being asked to give them $139 million. To do what? Write letters to the editor and those GINA press releases?"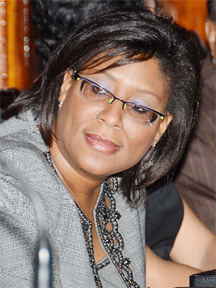 In the proposed 2014 budget, $81 million is to be allocated as a subvention for NCN, while $139 million is to be allocated for GINA. Hughes questioned why such a significant amount of money should be designated to these two entities when in comparison, the main agency for attracting investment, the Guyana Office for Investment, was $119 million, approximately $20 million less than GINA.
"We all know what democracy is but somehow it escaped the operation of the National Communica-tions Network… we are not vengeful when it comes to NCN but it has to do with the abuse of a public entity for partisan benefit.  It is the watchdog function of this house to guard against such abuse," she stressed.
Hughes also queried why NCN does not have the capacity to carry the Learning Channel after the government has spent billions of taxpayers' money over the last twenty years. "In addition to the $220 million that the government has allocated to blow its own trumpet, another $43.2 million will be paid as fees at the rate of $3.6 million per month to TVG for services provided for the Learning Channel…. The government plans to take an additional 43 million plus tax dollars and pay it to TVG to carry educational material. I know the government will counter and claim that NCN lacks to capacity to carry the Learning Channel but, at the same time, they must explain why the investment was not made. Where did the money go?" she questioned.
The AFC MP also quoted fellow house member and Minister of Home Affairs Clement Rohee, who recently accused Stabroek News of biased coverage. "Therein the Honourable Minister stated, I quote, 'All media houses have a duty to be responsible in providing balanced coverage of the political views.' Minister Rohee… you are absolutely correct… and I would ask you to explain this concept to your friends at GINA and NCN," Hughes asserted.
 'Tourism support'
Hughes also spent a significant amount of time in her speech on tourism. The recent announcement that funding for a specialty hospitality training institution is underway is welcome, she said, as stakeholders have highlighted the need for specialty training as a means of raising standards and improving quality.
One of the proposals she said her party would be making is the implementation of a reduced rate of Value Added Tax (VAT) for the tourism sector to give the industry a "jump start." She pointed out that such an arrangement already exists in The Bahamas, Barbados, Dominica and Jamaica.
She also said that while the Guyana Tourism Authority has recorded 200,122 visitors, "…inadequate financing year after year has meant that Guyana has failed to implement a comprehensive destination market plan, which is fundamental to moving any tourism industry forward, and so we continue to wallow in the dream of the potential this sector can offer."
"This single fact can only be interpreted as a failure to understand that it is estimated that this sector contributed approximately 237 million US dollars to Guyana's GDP while contributing 190 million in value added revenues.  Compare this to the funds given to the industry. May I suggest therefore that in this budget …we allocate funds to accurately calculate the contribution of our tourism industry to the GDP," Hughes said.
Hughes also pointed out that "government had no right to take funds from our national reserves to build another hotel for a team of foreigners to manage…that should have been left to the private sector!… And yes money from NICIL belongs to the people of Guyana and should be include as revenues within this budget." She was referring to the Marriott Hotel venture.
She also highlighted the need to market the sector effectively, including damage control messages in light of daily stories of crime, as well as for the urgent run off of local elections in order to achieve a long term solution to the city's garbage crisis.
Hughes also highlighted the need to support the arts and she decried the fact that while the Theatre Guild, which is a non-profit organisation run by volunteers, gets a paltry $750,000 per year as a subvention, it is still to receive payment for its use during Carifesta in 2008 and which led to a $14 million debt to the Guyana Power and Light Inc. "You see the Theatre Guild is listed as an industrial entity and their electricity bill starts at a mandatory $300,000 every month regardless if a light is switched on or energy consumed,' she explained, while adding that in a recent letter to the opposition parties, the Guild requested that this matter be brought before the Assembly for consideration.
 Lofty plans
Hughes said that there were lofty plans for investment in Information and Communication Techno-logy (ICT), including the $1.1 billion budgeted for the e-Government project and the re-launch of the One Laptop Per Family (OLPF) initiative, for which $2 billion is budgeted for the acquisition of a third batch of laptops.
"They sound good, they look good in the papers, but ICT is not just about running cables, putting up towers and distributing laptops, it is about making information available and we can't help but wonder who will benefit from the billion dollar ICT contracts in the absence of the Public Procurement Commis-sion?" she questioned.
She also drew attention to the 2012 Auditor General's report, which showed that a difference of $1.252 billion was spent under the OLPF Programme for the acquisition of 27,000 laptops, which were received in 2013. At the time of audit, she said, 4,149 of those laptops were issued but more remarkably, 2,649 were damaged, and 2,011 were returned to the supplier due to defects. "In addition, we are yet to hear the final take of the 103 laptops that were stolen. Now, this government is asking us to approve $2 billion for more laptops. Mr. Speaker, the Alliance For Change fully supports every school, not only secondary schools, but every school having fully functional IT labs but at the rate these laptops are being damaged, even before they get to the people, leaves a lot to be desired. And while we look at laptops for every home and every school, what is the plan for the University of Guyana students.  We in the Alliance For Change would like to see each university student being given a laptop and a working one please!" she declared.
Also speaking on the planned $625 increase for old age pensioners, Hughes said that this "will not cover the cost of the grillwork they now need to install in their homes to protect them in this Guyana."  She also made reference to the recent fatal attacks on two pensioners.
Comments

Several candidates recorded outstanding performances at this year's Caribbean Advanced Proficiency Examination (CAPE).

 Geometric improvements will be carried out on the East Coast Railway Embankment Road come September for smoother traffic flow.
Swift action by the Law Enforcement and Investigation Division (LEID) of the Guyana Revenue Authority (GRA) aided in the removal of a large quantity of seized foreign chicken from two separate cold storage facilities in the Berbice area after it was discovered that the commodities were unlawfully being disposed of, the GRA said today.

Farha Faiz, a lawyer, speaks with the media after a verdict for the controversial Muslim quick divorce law outside the Supreme Court in New Delhi, India August 22, 2017.  

Defeat Tallawahs by 37 runs Chris Gayle, playing in his 50th CPL match, produced his 63rd T20 fifty as St Kitts & Nevis Patriots cruised past Jamaica Tallawahs by 37 runs to guarantee a place in the playoffs for the first time in their three-year history.