A property dispute stemming from Jagwandai Ramnauth's sale of her home is believed to be the motive behind her death.
Ramnauth, 46, who was known as 'Selena,' died as a result of a gunshot wound to the head last Wednesday evening at the Country Club Bar, at Chateau Margot, East Coast Demerara. She was shot once to the forehead while on duty and according to police she was involved in an argument when she was shot.
Speaking with Stabroek News yesterday, Adrian Ramdeo, her boyfriend up to the time she was shot, said Ramnauth will be buried on Thursday at Bath Settlement, West Coast Berbice (WCB).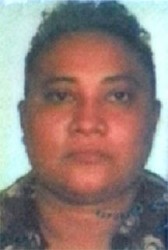 According to him, Ramnauth, up to the time of her death, was involved in a property dispute with persons who were living inside of her home. He said she also faced challenges at work.
Ramdeo said in 1995, Ramnauth, went to Trinidad and Tobago, where she worked as a cook.
"She is a woman who like to work. She don't waste time. She gets up and get," he said, while also noting that the woman was an excellent cook.
He said when she left, she sold her home for approximately $6M but only received a down payment of a fraction of the amount.
Ramdeo said following a dispute over the payment Ramnauth was involved in a court matter with the person who bought the house in Seventh Field, Sophia. He noted that the person who currently occupies the home was arrested along with his two sons. The sons were released while the man is still in police custody.
However, when this newspaper contacted persons living in the home, they told Stabroek News that Ramnauth sold the house to them and also sold it to another person, who has been harassing the family.
Ramnauth also had a financial dispute with her former employer after she loaned him a few hundred thousand dollars to invest in the bar.
According to reports, after not being repaid for almost a year, Ramnauth had threatened to quit her job.
Police had reported that Ramnauth was shot to the head during a dispute with patrons at the bar.
Comments

Attorney, Dr Arif Bulkan is to be sworn in as an acting Justice of Appeal tomorrow.

GPL says that some of its customers on the West Coast and East Bank of Demerara experienced unusually lengthy power cuts as a result of heavy winds and rain last evening and early this morning.

Alliance for Change (AFC) leader Raphael Trotman yesterday said the diversion of billions to the security sector after the destruction of the Camp Street prison was partly responsible for the government not budgeting the full sum for severance payments to laid off sugar workers.

The police were up to yesterday afternoon still working to ascertain the motive behind the murders of Ambrose Baharally and Martin Godette, the Pomeroon farmers who were shot dead on Sunday and a potential witness was taken into custody to assist with the investigation.

Former President Donald Ramotar has accused the current government of accepting loans from India that he initiated except those pertaining to the rehabilitation of the sugar industry but State Minister Joseph Harmon says he is unaware of the claim and has urged that the former head of state prove it.