An ex-policeman and another man, accused of a $630,000 gun-point robbery committed on a Green Ice Taxi Service employee last December, had the charge dismissed on Wednesday after four witnesses including the virtual complainant failed to show up and offer evidence in a city court.
Collin Harris, 20, of Lot 201 Middle Road La Penitence, and Kelvin Pollard, 19, of 669 East Ruimveldt, both maintained their innocence when faced with the police's allegation that they, on December 7, at 99 Sugar Cane Street, South Ruimveldt Gardens, robbed Rosita Kalchoy of $620,000 and US$50 or $10,000, which was the property of Vibert Puran. Kalchoy, an office assistant attached to the taxi service, was allegedly held up at gunpoint by Harris and relieved of the sum mentioned. Pollard was said to have been waiting on a motorcycle for Harris.
The defendants, according to the police report, rode away after they committed the act. A dispatcher then sent a message to taxi drivers on the road. Harris and Pollard, identified as the robbers, were then apprehended and taken to the police. An identification (ID) parade was held and Harris, according to Police Prosecutor Bharat Mangru, was identified as the gunman.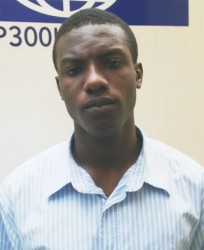 When a call was given for Rosita Kalchoy, who was informed that she had to offer evidence on Wednesday, went unanswered, Magistrate Judy Latchman dismissed the matter. Also absent though they were informed that they had to offer evidence were Andrew Gad, Janella Burt and Naomi Roopnarine.
Police Inspector Joel Ricknauth, who presented the prosecution's case, told the Magistrate that all witnesses were informed by the prosecution of their required attendance.
Harris was represented by attorney Melvin Duke and Pollard was represented by another attorney.
Comments

MUMBAI, (Reuters) – India captain Virat Kohli had something to cheer on Thursday when he was named ICC World Cricketer of the Year, a day after suffering his first test series defeat as skipper in South Africa.

Fifteen city councillors voted yesterday in favour of accepting the recommendations of the parking meter renegotiation committee, which would see a reduction in parking fees to $150 per hour, exemptions for religious organisations and schools, and Smart City Solutions (SCS) giving up on their claim to garage parking.

A GDF rank was yesterday remanded to prison over three armed robbery charges and alleged possession of an unlicensed gun and ammunition.
Minister of Natural Resources and Leader of the Alliance for Change (AFC), Raphael Trotman on Monday praised ExxonMobil for investing in the oil sector here and said it is now resulting in other important companies wanting to do business here.

The city lance corporal, who on Sunday allegedly shot and killed Marlon Fredericks, a mentally-challenged vendor, after he reportedly attempted to flee custody is to be charged with manslaughter.