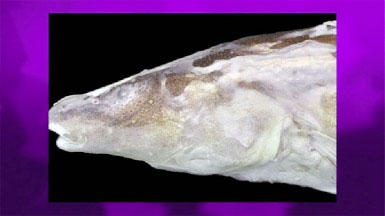 – scientists warn
The "lost world" of the Upper Mazaruni River harbours a wide diversity of fishes found nowhere else in the world but the highland ecosystem is under threat from mining activities and protection of this area has been urged.
"Between 67% and 95% of the species of fish in the Upper Mazaruni (River) doesn't exist anywhere in the world," Curator of Freshwater Fishes at the Royal Ontario Museum, Hernan Lopez-Fernandez told Stabroek News in a recent interview. Lopez-Fernandez was part of a team of ichthyologists involved in several expeditions in rivers across Guyana over the past few years to collect and study the freshwater fishes.
At least 25 species of fishes new to science were discovered and studies are being done to properly classify them, he said. "They didn't exist anywhere else," he noted. Lopez-Fernandez, who is also attached to the Department of Ecology and Evolutionary Biology at the University of Toronto, said that the discoveries are pretty significant as it was assumed that fishes in Guyana are the same as in Suriname but "a lot of fishes that live in Guyana's rivers are endemic to Guyana. They don't live anywhere else."
There is an incredible diversity of fishes in the Upper Mazaruni River, he said, adding that there is no other river system in South America that has such a high number of species living in a single river. According to the ichthyologist, between 67% and 95% of the fish species in the Upper Mazaruni River do not exist anywhere in the world and this is the highest rate of endemics in any river system in South or Central America. He explained that the 67% is a conservative figure which assumed the fewest possible endemic species and the most likely number is somewhere in between the two figures.
However, he noted that there is "quite a bit of mining" occurring in the area and the degradation of the aquatic habitats would have a negative impact on the fish.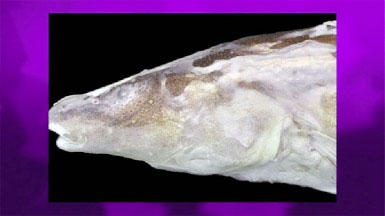 Lopez-Fernandez noted that some of the fishes captured by the team are related to those found in the lowlands but were isolated from them for a very long time—millions of years—and have undergone changes. "The Mazaruni seems to have very old lineages that have been isolated over time or extinct," he said. According to the ichthyologist, some of the species discovered, though appearing to be related to other fishes in the lowlands, differ in their ecological functions for the same features. "They may have been isolated for so long that they have formed their own evolutionary pathway," he said. "We don't have any other examples of fishes of these (species) doing what these fishes are doing."
According to Lopez-Fernandez, the team was baffled when they initially captured some of the fishes. "These fish look weird," he said and in giving an example, noted that the patwa in the Upper Mazaruni had adapted to live in the fast current. He said that one was simply called "blue eyes" because they had no idea of the family to which it belonged. "It just doesn't look what you expected it to look like," he said.
He recalled that for a type of hassar, the three they captured are the only ones known to science. Studies are ongoing on some of the fishes. Lopez-Fernandez recalled that for the Akawaio penak, a previously unknown genus of electric fish, "it was so strange" that he wasn't sure what family it belonged to and DNA tests had to be done. The analysis found that the fish's DNA was so distinct that it represents a new genus– the classification level above species.
'Extinction threat'
In a paper authored by Lopez-Fernandez and his team including University of Guyana biologist Calvin Bernard and published last year, the scientists noted that the upper Mazaruni River drainage basin is hydrogeographically and climatically distinct from the rest of the Essequibo Basin and they said that the area is a centre of endemism in freshwater fishes, which has been seriously underestimated due to a lack of scientific exploration.
"Fish in this watershed represent a cross-section of the evolutionary lineages from the uniquely rich Neotropical freshwater fish fauna and are key to understanding the evolutionary history and historical biogeography of Neotropical fish diversity. The Mazaruni River demands immediate protection and it is a clear case of the need for exploration and discovery in hydrogeographically and climatically isolated regions with high endemism and dangerously underestimated diversity," they asserted.
According to the scientists, the fishes of the upper Mazaruni represent a clear example of a threatened endemic freshwater fauna in an underexplored and highly isolated region. They noted that in their three ichthyological expeditions to the upper Mazaruni River, the fishes uncovered were mostly unknown to science and by their liberal estimate, the upper Mazaruni has perhaps the highest proportion of endemic species of any freshwater fish fauna reported in the Neotropics. Lake Titicaca has the highest rates of fish endemism described in a Neotropical eco-region with 92% of fish species being endemic but they said that it is likely that the upper Mazaruni has equivalent or higher endemism.
The scientists declared that the fishes of the upper Mazaruni are under threat of extinction from expanding mining operations, which have severely degraded aquatic habitats.
They proposed several measures which they said are necessary to ensure the unique fish fauna of the Upper Mazaruni will not rapidly disappear due to human impacts. These include: regulating mining practices, which are the primary source of pollution and siltation; protecting the drainage from severe flow alterations including hydroelectric dam development; minimizing deforestation, which is known to threaten endemic fish species through habitat degradation; and preventing further introductions of non-native fish species.
"Establishing and properly managing a reserve or national park in the upper Mazaruni River basin would largely address all these recommendations, protecting a region of the Guyana Shield with a disproportionately large potential for biodiversity loss given its highly endemic fish fauna and relatively small geographic area. Additionally, we recommend implementing a standardized population monitoring programme for the rare and highly threatened fishes of the upper Mazaruni. Moreover, ex-panded exploration of the riverine fauna of the basin should be supported, particularly concentrating on the invertebrate and lower food-web components of the Mazaruni aquatic ecosystem," they said.
"Sites that have been mined are not good habitats for fish of the Upper Mazaruni," Lopez-Fernandez told Stabroek News, before noting that studies have shown that the community changes completely. He said there have already been negative impacts and the population could become extinct or severely depleted, though, at the moment, this is difficult to know. "The Mazaruni has some of the most remarkable freshwater fish," he said, adding that it was "like a place frozen in time where evolution just happened…and evolution was separated from everywhere else."
Comments

Fifteen city councillors voted yesterday in favour of accepting the recommendations of the parking meter renegotiation committee, which would see a reduction in parking fees to $150 per hour, exemptions for religious organisations and schools, and Smart City Solutions (SCS) giving up on their claim to garage parking.

A GDF rank was yesterday remanded to prison over three armed robbery charges and alleged possession of an unlicensed gun and ammunition.
Minister of Natural Resources and Leader of the Alliance for Change (AFC), Raphael Trotman on Monday praised ExxonMobil for investing in the oil sector here and said it is now resulting in other important companies wanting to do business here.

The city lance corporal, who on Sunday allegedly shot and killed Marlon Fredericks, a mentally-challenged vendor, after he reportedly attempted to flee custody is to be charged with manslaughter.

Former Magistrate and Univer-sity of the West Indies (UWI) lecturer Christopher Arif Bulkan was yesterday sworn in as a temporary Appellate Judge by President David Granger who said that the appointment is part of efforts to ensure that justice is dispensed in an efficient and timely manner.