Sueria Manufacturing Inc., a US$2M venture was commissioned last evening, with President Donald Ramotar lauding it as an example of youth entrepreneurship, the Government Information Agency reported.
The company owned by Frank Sanichara and Teshawna Lall, with funding by Kaieteur News publisher, Glenn Lall, the father of Teshawna, is manufacturing a range of confectionaries, and other products such as nuts and biscuits under the 'Sueria' brand at the Eccles Industrial Site.
Ramotar said that for an economy to be sustained, it has to be rooted in production. GINA said that he advised that the owners should enter into contract farming arrangements to ensure sustainable and quality supplies.
GINA said that the company signalled that it would focus on exports, and this move was also lauded by the president.
Joint CEO Teshawna Lall said the company marks the fructifying of an idea conceived four years ago. Named after her daughter Sueria, she said that every care has been taken by the business to ensure very high standards particularly as they face competition from a well-established manufacturer here, GINA said.
"We are thinking big and we're thinking outside the box, but most of all we're thinking of you," she said.
Kaieteur News Publisher Glenn Lall, in brief remarks, thanked President Ramotar for helping to make the factory a reality, GINA added.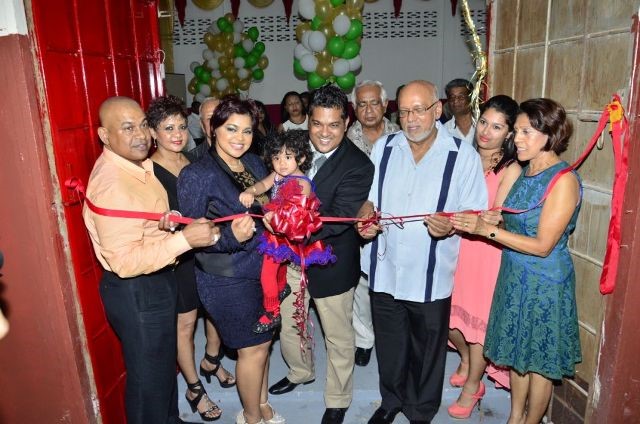 Comments

The sugar union, GAWU today said that more sugar workers are to be made redundant.

(Trinidad Guardian) Education Minister Anthony Garcia says the University of Trinidad and Tobago (UTT) is of the view that the organisation is "overstaffed and to run the university efficiently it will mean they have to trim fat." But former Tertiary Education Minister Fazal Karim is warning that the decision to retrench 287 staff members, will "compromise the quality of teaching and learning and administration at the university," and may impact its accreditation with the Accreditation Council of Trinidad and Tobago (ACTT).

In preparation for Guyana's emerging oil and gas sector and the bustling business usually synonymous with the industry, the Pegasus Hotel is expected to undergo a huge expansion which includes office and residential rental spaces.

Police Commissioner Seelall Persaud is to resume his duties today after spending approximately six months on leave, Public Security Minister Khemraj Ramjattan yesterday confirmed to Stabroek News.
The Alliance For Change (AFC) yesterday launched a scathing attack on the union GAWU, accusing it of decades of sabotage of the sugar industry and not genuinely representing the interests of its workers.