The youth found with a fatal stab wound on Monday evening along the Ogle Access Road, East Coast Demerara, has been identified as 17-year-old Bhaker Azeez.
Azeez, also known as 'Andy,' of 129 Third Street, Montrose, succumbed on Monday at the Georgetown Public Hospital (GPH), where he was taken for treatment after he was found. He was identified after relatives viewed an article about the discovery on the Stabroek News website on Tuesday evening.
Relatives said it was after they came across a picture of Azeez in the article that they decided tocontact the police and identify the body.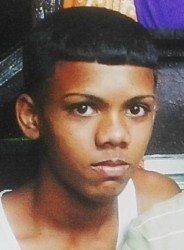 Azeez, who was described as a "hasty chap," was identified around 7am yesterday, at the GPH Mortuary, by his mother, Bibi Zabhida Azeez and his sister, Felisha Azeez, in the company of a police rank.
In addition to his alias (Andy), the names of Azeez's mother and his two sisters, were tattooed on the man's body. That, relatives said, confirmed their worst fears for Azeez, who they noticed missing on Tuesday.
A devastated Bibi Zabhida told Stabroek News that the teen had a single suspected stab on the left side of his chest. She further mentioned that she could not imagine why someone would want to hurt her son, whom she described as a person that had no problems with anyone.
She said the last time she saw Azeez was on Sunday evening, since she does not live with him. Nevertheless, she said she was thankful that the taxi driver who found Azeez and rushed him to the hospital in an attempt to save his life.
According to the teen's grandfather, Abdool Kadair, who was the last family member to see Azeez alive, the lad was seen talking to a friend earlier in the day. "I tell he `you well dressed,'" he recalled, before adding that he never saw Azeez dressed in such an extravagant manner for his usual afternoon bike rides.
The distraught man said he did not bother to ask Azeez where he was going, "because he got an attitude not to say where he is going." Kadair further mentioned that he overheard Azeez on a telephone call, informing the caller on the other end of the phone that he "can't make it now," twice. He said Azeez eventually left with a bicycle a friend had left in his possession.
Azeez was wearing a blue jersey, a black trunks and a pair of sneakers around 7pm when he left his Montrose home for the last time.
A relative said about a year ago Azeez was in the habit of being around "bad company," but the motive behind his murder remained unclear yesterday.
Kadair described his grandson as a "hasty chap," who would defend himself in any situation. Though unable to venture how Azeez met his demise, Kadair did note that a man in Montrose, with whom Azeez had many confrontations, was being questioned by the police, and at least three other persons have been asked to give a statement to the police.
Police had said that at about 8:30pm on Monday, Azeez was found at the Ogle Access Road and later succumbed while receiving medical attention at the GPH.
The police, who are currently investigating the murder, have since collected a statement from the grandfather of the teen, as well as a cellphone Azeez used.
Comments

Four weeks after passing a $267 billion budget for 2018, the National Assembly will debate a supplemental provision of $1.75 billion to meet a portion of the severance pay for around 4,000 sugar workers.

Autopsies performed on the bodies of Ambrose Baharally and Martin Godette, the Pomeroon farmers who were shot dead on Sunday, have found that both men died from gunshot injuries to the head.

The ground-breaking Whistleblower Protection Bill was passed in the National Assembly last evening without amendment, although there was opposition to the formulation of a commission to act as the governing body.

The preservation of land assets is essential to the creation of a green state and a good life for future generations, President David Granger said yesterday at the launch of a US$15M Sustainable Land Development and Management Project.

Contending that the previous administration failed to find sustainable ways to restructure the security sector and identify the root causes of crime, President David Granger yesterday said that government's determination to resuscitate the UK Security Sector Reform Action Plan (SSRP) is part of its efforts to take corrective action.