Guyana Goldfields is on track to commence mining in Aurora, Cuyuni by July 2015, President Donald Ramotar heard when he and a delegation toured the Canadian company's mining project yesterday, a GINA report said.
The company's Chief Executive Officer, Scott Caldwell also told Ramotar, who made the trip with Canadian High Commissioner to Guyana Nicole Giles, Natural Resources Minister Robert Persaud, Works Minister Robeson Benn, Finance Minister Dr Ashni Singh and GGMC Chairman Clinton Williams that the company expects to produce 14,000 to 15,000 ounces of gold per month.
According to the Government Information Agency (GINA), the president remarked that "the Guyana Goldfields investment in the local economy is important, as it will aid in the administration's continuous efforts to fight against poverty and create a more solid Guyana."
In pledging his government's continued support to the company's endeavour, GINA reported the president as saying "We will continue to try our best to try to offer support so that we can have full cooperation. We welcome this investment, we think it's a good story to tell, hope it can make a major contribution itself, but it benefits all of Guyana."
GINA also said that Caldwell assured the delegation that the project is coming along smoothly and that safety principles are not being neglected. He also reiterated the company's intention to use mercury-free technology in its operations.
"The company is currently undertaking drilling and studies to advance and develop the Aurora Gold Project in Guyana with a current measured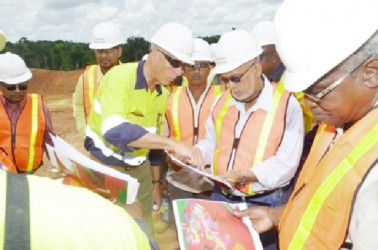 and indicated resource of 5.71 million ounces (of) gold (47.04 million tonnes at a grade if 3.83 g/t)," GINA said.
Last December Stabroek News was told that around US$160 million has already been spent in the exploration phase of the project, which has been around for about ten years now.
The company announc-ed, also last December, that it had secured the US$238 million in capital costs needed to take the Aurora project towards the commercial production phase. The funds will be provided, in part, through debt financing with the assistance of the International Finance Corporation, of the World Bank Group, which will lead the coordination of the overall debt syndicate with other banks and multilateral and development institutions.
Once completed, the mine is expected to produce 3.3 million ounces of gold over its initial 17-year life-span, and operate at a cash cost of US$527 per ounce.
The project's facilities include the construction of a wharf at Buckhall on the Essequibo River in Region One, the access road from Buckhall to the project site, crossings, and work on the quarry. It is estimated that over eleven hundred Guyanese have been involved in the exploration, pre-development and development up to early 2014. As the project rolls into commercial production in 2015, 400 to 500 Guyanese are expected to be included in its operations. Overall, the company says that 90 percent to 95 percent of the operational workforce will be Guyanese. In additional to job opportunities, Guyanese workers will also receive additional training to enhance and expand their skills, as well as health and other medical benefits.
"Investment in our society is important for the creation of wealth and jobs. Some of you who follow our policies would see we invest a lot in our social sector," the president also said.
Comments

Legal Advisor to the Police, retired Justice of Appeal, Claudette Singh yesterday testified that there was insufficient evidence in the allegation made by Andriff Gillard of an alleged plot to assassinate President David Granger.

Today at 2 pm the 30 councillors of the Georgetown City Council will once again cast a vote on the future of metered parking in the city and several of them have told Stabroek News that they want to be sure their vote accurately represents a mandate from residents.

Crime Chief Wendell Blanhum yesterday made a written request to be recalled before the Commission of Inquiry (CoI) investigating the allegation of a plot to kill the President of Guyana to defend himself against "appalling" statements made by Assistant Commissioner of Police David Ramnarine.

Two men were yesterday remanded to prison by a city magistrate after they were charged with the fatal stabbing of Rawle Rodrigues which occurred in January.

Amid accusations that he has improperly tried to direct a constitutional commission, President David Granger said he had asked for a delay in police promotions to address complaints that have been made against law enforcers.