President of the Georgetown Amateur Basketball Association (GABA) Michael Singh yesterday said that he will contest the presidency at the upcoming Guyana Amateur Basketball Federation (GABF) elections because he believes he can develop the sport at the national level.
The GABF is scheduled to stage their Annual General Meeting on Saturday.
Asked about the reasons surrounding his candidacy, Singh, who was elected to the GABA top post in January of last year, stated that he knows that he can develop the game from a national standpoint through proper collaboration with the Linden and Berbice associations.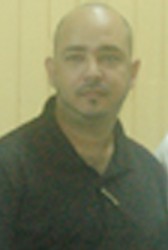 "They served for a period of time and then drop the ball. I know what I can do from a national point of view and I got the drive and passion to make the federation more vibrant," added Singh.
Questioned about his thoughts on the current state of basketball nationally, Singh stated: "The current admin are in touch of what is going on. However, they depend on too much of the sub associations. They don't take the bulls by the horns."
He added: "It should be the opposite way. The federation should be the one partnering with corporate society and hosting tournaments instead of sitting down and waiting on affiliation fees. They are non-existent in terms of youth basketball. If I win, I plan to offer affiliation to Youth Basketball Guyana (YBG) once they meet all the necessary requirements.
"At the senior division, they could be doing more by hosting tournaments and pitting the best players against each other. If I win, we will create a database that will keep track of all basketball players which will allow us to monitor and make better assessments of all players," added Singh.
Queried as to the reasons he thinks he is the best candidate, Singh said: "Georgetown is the biggest sub association and we believe we brought basketball back to Georgetown. We have laid the foundation for something bigger and believe we can do it at a national level.
"I bring youth and vibrancy. Basketball can't survive on basketball alone; we need to bring back the party atmosphere like it was before. We have to work on a holistic approach and need to keep the fans entertained.
"At each sub-association, we also want all the first division teams to adopt schools and fill that mentorship role. That school will be affiliated to the club and the club will be responsible for outfitting the team," said Singh.
Singh and former basketball star Nigel Hinds have announced their intentions to contest the presidency but there is still no word from incumbent David Patterson as to whether he will seek another two year term.
Comments

Guyana Amazon Warriors completed a last over four- wicket victory over the Barbados Tridents to keep their chances of qualifying for the playoffs alive in this edition of the Caribbean Premier League (CPL) on the back of opener, Chadwick Walton at the Guyana National Stadium, Providence, last evening.

LONDON, CMC – West Indies part-time off-spinner Kraigg Brathwaite has been reported to the International Cricket Council for having a suspect bowling action, following the Caribbean side's humbling innings and 209-run defeat at Edgbaston here Saturday.

BIRMINGHAM, England,  CMC – Under-fire West Indies captain Jason Holder has urged his players not to lose confidence despite their embarrassing innings defeat inside three days in the day/night opening Test at Edgbaston.
(Reuters) – Spanish fourth seed Garbine Muguruza played flawlessly to crush Simona Halep 6-1 6-0 in a one-sided women's final at the Cincinnati Open yesterday.

Future Stars continued their meteoric rise on the 'street football circuit', defeating Back Circle 1-0 to clinch the 3rd Annual Xtra Beer 'Ballers in the Summer' Street Football Championship on Saturday.