Athletics body to beef up anti-doping campaign
-following positive test for power-lifter
The Athletics Association of Guyana (AAG) will look to step up its anti- doping programme while educating athletes about banned substances on the World Anti-Doping Association (WADA) list.
According to president of the association, Aubrey Hutson, "every athlete that represented Guyana last year will be receiving whereabouts forms from this month so we can fulfill our anti-doping mandate" to the Guyana Olympic Association (GOA).
Whereabouts forms typically include the athlete's name, sport/discipline, mailing address, home address, times the athlete is usually at home, work location and times, contact phone numbers and e-mail, training times and venues, training camps with address, travel plans, temporary residence, including address (e.g. hotel) and competition schedule.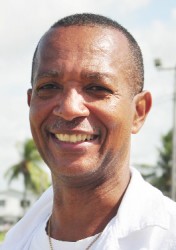 Athletes may also indicate times and locations they are more likely to be available for testing.
Hutson told this publication yesterday that the recent spate of positive doping tests on the regional as well as one for power-lifter Gumendra Shewdas on the local circuit has hastened the AAG's approach to intensify its anti-doping measures since numerous track and field athletes represent Guyana internationally.
"The GOA has been on our case to satisfy our anti-doping criteria so we plan to be stringent this year, the mandate deals with in-competition and out-of-competition testing, the GOA anti-doping committee can show up at any time and test athletes", said Hutson.
The AAG head stated that "this year in particular we have 10 international events that we plan to attend so we have to ensure that athletes during training and competition are not taking any prohibited substances."
Hutson added "It is not just about drugs per se but anything intravenous to boost your athletic performance beyond your normal capability."
If an athlete is unavailable for testing on three occasions "it would be considered that the person is failing to live up to the anti-doping programme and we will consider it as a failure since they are dodging testing and would be suspended from international competitions.
"We are looking for a level playing field with clean and even competition", Hutson concluded. (Emmerson Campbell)