The Athletics Association of Guyana (AAG) will look to step up its anti- doping programme while educating athletes about banned substances on the World Anti-Doping Association (WADA) list.
According to president of the association, Aubrey Hutson, "every athlete that represented Guyana last year will be receiving whereabouts forms from this month so we can fulfill our anti-doping mandate" to the Guyana Olympic Association (GOA).
Whereabouts forms typically include the athlete's name, sport/discipline, mailing address, home address, times the athlete is usually at home, work location and times, contact phone numbers and e-mail, training times and venues, training camps with address, travel plans, temporary residence, including address (e.g. hotel) and competition schedule.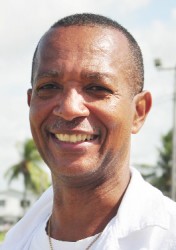 Athletes may also indicate times and locations they are more likely to be available for testing.
Hutson told this publication yesterday that the recent spate of positive doping tests on the regional as well as one for power-lifter Gumendra Shewdas on the local circuit has hastened the AAG's approach to intensify its anti-doping measures since numerous track and field athletes represent Guyana internationally.
"The GOA has been on our case to satisfy our anti-doping criteria so we plan to be stringent this year, the mandate deals with in-competition and out-of-competition testing, the GOA anti-doping committee can show up at any time and test athletes", said Hutson.
The AAG head stated that "this year in particular we have 10 international events that we plan to attend so we have to ensure that athletes during training and competition are not taking any prohibited substances."
Hutson added "It is not just about drugs per se but anything intravenous to boost your athletic performance beyond your normal capability."
If an athlete is unavailable for testing on three occasions "it would be considered that the person is failing to live up to the anti-doping programme and we will consider it as a failure since they are dodging testing and would be suspended from international competitions.
"We are looking for a level playing field with clean and even competition", Hutson concluded. (Emmerson Campbell)
Comments

LONDON, CMC – West Indies will go head-to-head with nemesis Ireland in their quest reach the International Cricket Council (ICC) 2019 Cricket World Cup, after being installed in Group A of the World Cup qualifiers in Zimbabwe starting in March.

BRIDGETOWN, Barbados, CMC – West Indies captain Jason Holder says planning has already begun for the International Cricket Council (ICC) World Cup qualifiers in March as the Caribbean side looks to book its spot in the 2019 one-day showpiece in England.

National lightweight champion, Dexter 'Cobra' Gonsalves will look to shake off some rust when he returns to the ring Saturday night at the Cliff Anderson Sports Hall on the 'Bad Blood' card.

With his historic 2017 campaign officially in the rear view mirror, star athlete Daniel Williams and his coach, Johnny Gravesande have their sights set on an even better 2018 season.

A High Court judge has granted an interim injunction restraining the TT Table Tennis Association (TTTTA) from taking any further action pursuant to its decision to select players Aaron Wilson and Yuvraaj Dookram for the Commonwealth Games.