GROS ISLET, St Lucia, CMC – A heart-to-heart talk meant to bolster team morale helped put Jamaica in the driver's seat as they struggled to snare first innings wickets against Windward Islands in the final of the Regional Four Day Tournament for the Headley/Weekes Trophy.
Captain Tamar Lambert said he walked off the field in protest at Jamaica's poor bowling which enabled Windwards to reach 113 without loss on the second day of the match at the Beausejour Cricket Stadium. However, a sterling eight wicket haul from leg spinner Damion Jacobs, following the pep talk put Jamaica back in control of the match which petered into a tame draw late Tuesday after the Jamaicans had already secured first innings points. "After they were 113 without loss on the second day, you might notice I walked straight off the field because I wasn't pleased with the bowling performance that afternoon," declared Lambert whose team secured enough points to claim the headley/Weekes Trophy.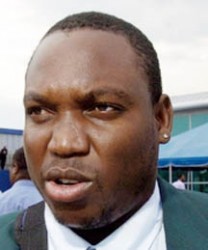 "I think we could bowl a lot better… we had a team meeting…it was a really serious one  and it was really nice to see our young leg spinner Damion Jacobs really bowled the way he bowled through this game. I must say congratulations to him".
Windwards, chasing a target of 376, reached 204 for six in their second innings when play ended an hour before the scheduled close.
The result meant that the visitors clinched the Trophy by virtue of accumulating a higher number of points in the match.
They ended with eight, including two batting points and three bowling points, while the Windwards finished with five.
Lambert, one of the most successful captains in regional cricket, has praised the role of his emerging players in helping his team to secure the coveted trophy.
Jermaine Blackwood had impressive innings of 94 and 118 not out while 29 year old Jacobs finished the game with 8 first innings wickets for 47.
"It was a good feeling knowing that we have played some good cricket this season," said Lambert.
"So I must tell my team mates well played especially Jermaine Blackwood. The way that he batted throughout the season was exceptional. Young Damion Jacobs in this game bowled really well and I think we have a young squad that can get better from here".
Around the Web