The Combined Colleges and Campuses captain, Steven Jacobs returns to local cricket today as the Georgetown Cricket Association (GCA) continues its cricket tournaments at various venues in the city.
Jacobs will lead Malteenoes Sports Club (MSC) against Gandhi Youth Organisation (GYO) which has former West Indies Under-19 player Kwame Crosse in its line up at MSC ground, Thomas Lands. Both matches will begin at 9:30am in the Hadi's World Incorporated first division (two-day) competition, which commences today and concludes tomorrow.
At the Demerara Cricket Club ground, Demerara Cricket Club (DCC) will face Everest Cricket Club while in the other match,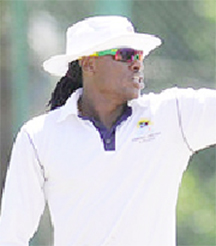 Meanwhile there will be four matches in the Noble House Seafoods second division (two-day) competition.
Everest will play Transport Sports Club at GYO ground in Woolford Avenue, while arch rivals Demerara Cricket Club (DCC) and Malteenoes Sports Club will do battle at the Muslim Youth Organisation ground. The Guyana Defence Force will come up against Third Class at Camp Ayanganna and University of Guyana (UG) takes on Guyana National Industrial Corporation (GNIC) at Turkeyen in the other two matches. All matches are set to begin at 11:00 hours.
Comments

NEW DELHI, India, CMC Superstar Chris Gayle headlines several top-tier West Indies players who will join over 1 000 players in the highly anticipated Indian Premier League auction scheduled for month end.

BELFAST, Ireland, CMC Two-time former 50-overs champions West Indies maybe the highest seeded side in the ICC World Cup qualifiers but they hold no terrors for minnows Ireland.

With only one day remaining for the registration process of the Guinness Greatest of the Streets West Demerara/East Bank Demerara zone, approximately 24 teams have submitted their participation forms for the qualifying stages.

Coach of the already crowned champions of the 2017/18 edition of Cricket West Indies Regional four-day first-class championships, Esaun Crandon, has suggested that there will be little tinkering to the squad set to take on the Trinidad and Tobago Red Force in their final round match, which begins at the Guyana National Stadium tomorrow.

Cricket action in the City is set to take shape January 27 as the Georgetown Cricket Association (GCA) aims to conclude a number of tournaments that would have rolled over from 2017.