The Combined Colleges and Campuses captain, Steven Jacobs returns to local cricket today as the Georgetown Cricket Association (GCA) continues its cricket tournaments at various venues in the city.
Jacobs will lead Malteenoes Sports Club (MSC) against Gandhi Youth Organisation (GYO) which has former West Indies Under-19 player Kwame Crosse in its line up at MSC ground, Thomas Lands. Both matches will begin at 9:30am in the Hadi's World Incorporated first division (two-day) competition, which commences today and concludes tomorrow.
At the Demerara Cricket Club ground, Demerara Cricket Club (DCC) will face Everest Cricket Club while in the other match,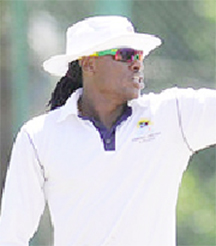 Meanwhile there will be four matches in the Noble House Seafoods second division (two-day) competition.
Everest will play Transport Sports Club at GYO ground in Woolford Avenue, while arch rivals Demerara Cricket Club (DCC) and Malteenoes Sports Club will do battle at the Muslim Youth Organisation ground. The Guyana Defence Force will come up against Third Class at Camp Ayanganna and University of Guyana (UG) takes on Guyana National Industrial Corporation (GNIC) at Turkeyen in the other two matches. All matches are set to begin at 11:00 hours.
Around the Web