Guyana clawed their way back from a second half deficit and defeated arch-rivals Trinidad and Tobago 15-8, in a nail biting final of the Southern Zone NACRA 15s Championships yesterday at the National Park.
The host boasting a much more settled side, dominated first half possession and territory but had nothing to show for it until National Captain, Ryan Gonsalves scored on a penalty try to put Guyana up 3-nil in the 32nd minute.
In the defensive encounter under overcast conditions, both teams failed to string together effective passes as balls slipped through buttery hands.
During the remainder of the first half, both teams were guilty of sloppy mistakes and the score line was the same heading into the locker room.
Aided by a superior scrum, the visitors put Guyana on the back foot on the resumption and was rewarded by first knotting the score thanks to a made penalty kick by outside half, Don Rojas.
To groans of the lively green-clad crowd, speedy winger, Darrel Scott then put his side up 8-3 after he breached Guyana's defense and registered a try. Scrum half, Justin McLean's conversion drifted wide and the score remained the same.
But Guyana, thanks to tenacious defensive play hung in there and got their bounty eight minutes later.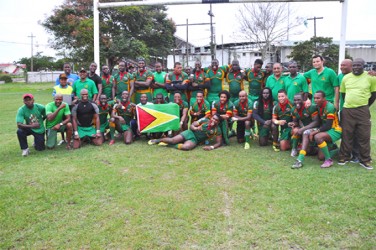 US based, Vallon Adams eluded two burly Trinidadian ruggers and equalized after recording a try.
Gonsalves then held his nerve and expertly judged the wind blowing into the National Park from the Atlantic and buried the conversion to put Guyana up 10-8.
Both teams would continue to toil away as Trinidad searched for a go ahead play while Guyana looked to pad the score line. However, the locals got the last laugh and try mere seconds before the final whistle when work horse, Christopher Singh breached TT's saran wrap defense and made amends for failing to score earlier.
In the ensuing play, Gonsalves conversion attempt went wide but the win was already a forgone conclusion and wiped away the bitter taste of the 20-nil schooling Guyana received last year by Trinidad at the UWI Campus in St. Augustine.
"It was a real tough game today" said Gonsalves in a post-match interview "Trinidad played really well but our guys stood up to the challenge.
"I know we have better hands and we could have done better, we dropped a lot of balls today and we need to work on that heading into the next game."
Trinidad's Captain, Adam Frederick lauded Guyana's play but mentioned that the rebuilding of a young team and a new structure could be blamed for the loss.
With the victory, the national men's team will move on to face the winner of the Northern Zone in a few weeks for the overall NACRA 15s championships. (Emmerson Campbell)
Around the Web