Team Guyana came in for high praise for finishing second in the Guinness Caribbean Street Football Challenge played at the Jean Pierre Sports Complex in Trinidad and Tobago over the weekend.
The Guyanese were edged out 2-1 by hosts Trinidad and Tobago in the finals Saturday night in a pulsating encounter.
Outdoor Events Manager of Banks DIH Limited Mortimer Stewart said the youthful team performed above expectation against the much seasoned Trinidad and Tobago side during an appreciation visit to the head office of Banks DIH Limited, local bottlers of Guinness Monday. Stewart, a former national footballer said the players have shown great potential and they should continue training as a unit for future competitions.
Communications Manager Troy Peters said there was a dubious call by the match official that resulted in the first goal scored by the Trinidadians but he congratulated the team for an outstanding showing in the eight team regional tournament.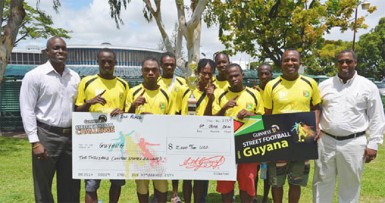 Peters said Banks DIH limited and the Guinness family are very elated at the team's success.
Guyana's only lost came in the final after they had beaten St. Vincent and the Grenadines 2-1 in the semi-finals and also had wins against Dominica 3-1, St. Lucia 1-0 and St. Kitts 2-1. Antigua/Barbuda and Jamaica were the other competing teams
The Guyanese secured the second place Trophy and $US 2,000 prize while Nickel Stoute placed third in the Skills competition to cap an outstanding weekend for the team.
Trinidad and Tobago retained their title and captured a top prize of $US 4,000. Queen Street, Tiger Bay was chosen to represent Guyana at the eight-nation regional tournament following their win in the Guinness Greatest of the Streets National final at Demerara Park two Sundays ago.
The team members were Alpha Fletchman (captain), Ezekiel Gravesande (vice captain), Jeffrey Newton, James Meredith, Godfrey Powers, Stephen Alfred and Rensford Coleridge.
Stoute was the Skills competition representative.
The team was accompanied by Wayne Griffith (referee) and Lee Baptiste, Guinness Brand Manager. The local contingent returned home Sunday evening.
Around the Web