Ansa Mcal, via their Stag Beer Brand, became the latest sponsor of the highly anticipated 2014 Guyana Floodlight Softball Cricket Association's (GFSCA) Guyana Cup 4 tournament which is set to bowl off on October 31.
During the company's brief press conference held at the Beterverwagting (BV) headquarters on Thursday, executives of the GFSCA, Ricky Deonarin, Ramesh Sunich, Reaz Hussein and Lalta Gainda, to name a few, along with Ansa Mcal PRO Dharshnie Yusuf and Stag Beer representative Shawn Abel, expressed their delight with the partnerships formed ahead of the tournament.
During the launching of the tournament held last week, the beverage company confirmed its full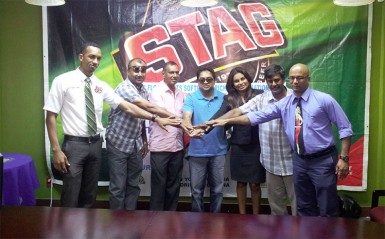 support of the venture and Thursday doubled up its efforts to make the tournament a success with the beer now being one of the official drinks of the competition.
Gainda, Secretary of the GFSCA, said that the venture between the two entities was more like a "marriage" adding that he anticipates the full support of Ansa Mcal throughout the tournament.
He suggested that the possibility of hosting the tournament at the Guyana National Stadium was not that far from reality.
Yusuf boasted of the company's love for cricket, pointing out that the yearly tournament has been… "growing at an unprecedented level."
According to the PRO, his company was anxious to see the exhibition of talent among the players when the competition bowls off at month end.
Stag Beer representative Abel said they were…. "Happy to be onboard" the event adding that while the company was known for its support of sports especially football, they have now sought to come onboard with cricket which is adored by all.
Earlier, Hussein said that he believed that softball's popularity and high octane competitions have surpassed that of hardball cricket while admitting that having the Stag beer brand as a part of their plans was a very good venture for now and the tournaments to come.
The Softball Cup 4 is expected to conclude on November 2 and will see over 30 teams competing in a 20 overs-a-side scenario in all of the major cricket and outdoor grounds across the city.
Over 2 million dollars in cash and other prizes are up for grabs.
Around the Web