Led by an Anthony 'Awo' Abrams hat-trick, Slingerz FC steamrolled Beavers FC 5-0 when the Vitamalt/Aqua Mist sponsored West Demerara Football Association (WDFA) Knockout Cup continued on Friday.
Contested at the Den Amstel Community Centre ground, the veteran forward opened his account in the 20th minute with a simple finish into the back of goal after collecting a left sided cross unchallenged inside the area.
Midfielder Tichard Joseph would then make it 2-0 three minutes later, placing his effort beyond the reach of the advancing custodian after latching onto a through pass from just outside the 18-yard box.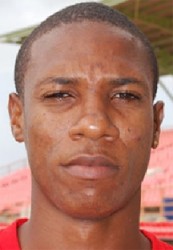 The score line would then read 3-0 in the 26th minute as Abrams sealed his double in a superb manner, flicking the ball over the onrushing defender before hammering his effort into the roof of the goal.
With the scores unchanged for the remainder of the first period, utility man Colin Nelson would then get into the scoring act in the 83rd minute, lashing a powerfully struck effort into the back of the net after the opposing custodian spilt the strike.
Abrams would then seal the lopsided win for the Vergenoegen giants two minutes later, completing a deserved hat-trick with a powerful right footed attempt into the goal after skipping past his marker.
In the earlier showdown of the doubleheader, Pouderoyen overcame Stewartville 2-0 compliments of second half goals from Tenie Lopes and Adrian Giddings in the 74th and 85th minutes respectively.
The event is slated to continue today at the same venue with a doubleheader. In the feature contest at 8pm, home side Den Amstel Porknockers led by the likes of Delon Lanferman, Ryan Hunte and Andre Hector, will tackle Wales FC and their trio of Kenton Boyce, Mark Mohamed and Kelvin Roberts.
The opening matchup of the night at 6pm will witness Uitvlugt Warriors led by their trident of Seon Bobb, Jermaine Accra and Robert Christiani tackling Eagles FC and their foursome of Kerron Schmidt, Anton Nicholson, Jalen Williams and Stephon Griffith.
Around the Web