MELBOURNE, (Reuters) – Steven Smith will captain Australia's test team for the rest of the series against India, the country's cricket board said yesterday.
He replaces Michael Clarke, who suffered a serious hamstring injury during the first test against India in Adelaide on Saturday.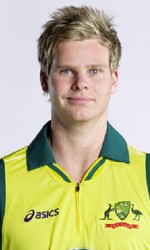 "We congratulate Steve on the wonderful honour of leading his country," chairman of selectors Rod Marsh said on Cricket Australia's website.
"He is an exceptional young man who is highly regarded by the National Selection Panel not only for his fine performances with the bat but also his maturity and clear leadership potential."
Wicketkeeper Brad Haddin was named vice-captain. Smith, aged 25 years and 195 days, becomes Australia's youngest test captain since Kim Hughes who was named in 1979 at 25 years and 57 days, and the third-youngest all-time.
Ian Craig was just 22 when he took over the job in 1958. Smith has prior experience as a skipper, leading New South Wales state in domestic competition and the Sydney Sixers in the local Twenty20 league.
He will lead Australia out for the second test against India starting in Brisbane on Saturday. The hosts lead the series 1-0.
Around the Web