Botofago secured their berth to the quarterfinal section of the GT Beer sponsored Upper Demerara Football Association knockout tourney, squeaking past Peacemakers FC 4-3 on Monday at the Mackenzie Sports Club ground.
Donovan Francis opened the scoring for Botofago compliments of a 20th minute effort. Mark Hope would then make it 2-0 as he scored one minute later. Peacemakers would then cut the deficit to one in the 33rd minute as Lawrence Rodgers scored.
Nonetheless Botofago would restore their two goal advantage as Tevin Thompson found the back of the net three minutes later. Oneel Murphy would power Peacemakers within striking distance of the Botofago side as he scored in the 41st minute.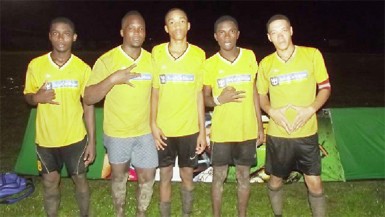 The high scoring nature of the fixture would continue three minutes later as Hope netted his second of the night to push the score line to 4-2 in Botofago's favour. Peacemakers would then reduce the deficit once more compliments of a Trevon Archibald own goal in the 47th minute.
However that would be the closest Peacemakers would come to securing a positive result as Eagles held onto to claim the quarterfinal berth. In the second matchup of the night, Eagles FC clawed their way past Blueberry Hill by a 6-1 score line.
Kendolph Louis began the rout as he broke the stalemate in the second minute. Randy Small would then get into the scoring act as he etched his name on the scorer's sheet in the 31st minute. It would then become 3-0 in the 56th minute as Dellon Charter netted.
Kellon Primo would then join the goal rush compliments of a 78th minute conversion. The score line would continue to expand as Louis sealed his brace on either side of half time two minutes onward. Blueberry Hill would eventually net a consolation goal in the 81st minute through a Jason Cobena strike.
However the matchup would end as it began with Eagles finding the back of the goal compliments of a Delon Albert 83rd minute attempt. The quarterfinal round is slated to commence on December 25th at the same venue.
Around the Web