At the launching of the GRDB's brand of aromatic rice held at the Guyana International Conference Centre yesterday, Deputy General Manager Ricky Ramraj noted that the local rice sector was in need of value added products.
Utilizing economist Dr Clive Thomas' column in the last Sunday Stabroek, Ramraj pointed out that Guyana was responsible for less than 0.12% of the world market demand and cultivation. He said that moving forward the industry was in need of an economic advantage that was based on increasing yields and speciality rice varieties.
Noting that Guyana was a minimal player in the world market, Ramraj outlined that the Guyana Rice Development Board (GRDB) would be working to enhance markets by being present at foreign trade shows to showcase Guyana's brand varieties. He stated also that there would be aggressive campaigning to increase the market size.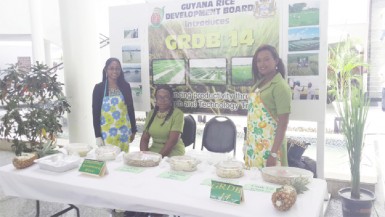 He said that there were still significant issues such as the pre and post shipment financing which resulted in farmers not being paid for months at a time due to the milling and exporting schedules.
Last year, rice production exceeded 635,000 tonnes and the industry is looking to expand on value added. Dr Mahendra Persaud, Chief Scientist at the GRDB said that a rice husk gasifier would be operational this year and this would transform husk into energy.
For his part, President Donald Ramotar during his feature address stated that a gasifier for husk could transform the industry. He suggested that while looking for expansion of the sector rice farmers needed to look past an individualist approach, noting that heavy duty machinery could be shared. He said that increasing efficiency ultimately led to farmers have more money in their pockets.
Ramotar said that the government was also doing its part to ensure that export markets were realised to their full potential. He said that for 2015 Guyana would be allowed to bid for a higher percentage of the Panama market. Currently, almost 50% of Guyana's rice exports are to Venezuela and Panama.
At the launching of the rice variety, GRDB 14 and the Maria's Delight Aromatic Rice, rice farmers, millers and industry persons were told that the sector was aiming for a seven tonnes per hectare yield across the board which has been climbing since 2007.
The current industry average is 5.3 tonnes per hectare.
The GRDB is yet to work out pricing for the aromatic brand of rice that was launched yesterday and distribution, however moving forward the board will be requesting that certain farmers grow the particular varieties and royalties are to be worked out this year.
Around the Web