Supposed child's play is being blamed for a midmorning fire that resulted in six persons losing their apartment at the South Ruimveldt Shopping Plaza, complex.
The fire, according to Fire Chief Marlon Gentle, was started by a child playing with matches. It reportedly started sometime around 10AM in the top-floor apartment, which was said to be home to three adults and three children, who lost all of their possessions.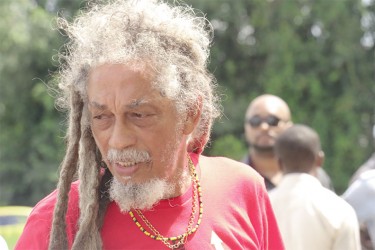 One of the affected residents is Compton Williams, who said he had been living in the building since the 1980's. At the time of the blaze, Williams said he had been out and had no idea of the fire's origins. Williams said he received a phone call informing him of the fire and, upon his arrival to the scene, the fire was already contained.
Though Williams had not been home, he said he learnt his wife was in the bathroom when the fire started. Two children were also in the apartment. The trio was fortunately unhurt.
When Stabroek News arrived at the scene, a crowd had converged and the blaze was contained but evidence of the fire was visible on the scarred walls of the apartment.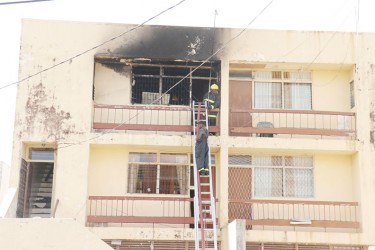 Williams's wife was inconsolable as residents reprimanded her for speaking to the media and took her away in a waiting car.
Williams could not give a direct estimate of his losses but said he lost almost everything to the fire.
Meanwhile, a resident claimed that if the fire service was reliable, the family would have been able to save some of their belongings. "The fire service take about half hour to come, and when the first truck come, it had no water; they done set up the hose and everything and no water… is after two more fire reel come from town, then the fire die down," the resident said.
Other occupants from nearby apartments verified this claim and said the two trucks which subsequently arrived contained the blaze from spreading to the other apartments.
The apartment was in the top flat of the Continental building at the South Ruimveldt Shopping Plaza, which has a total of four apartments on the top flat and four on the bottom flat.
Around the Web