The US Embassy's Security Cooperation Office along with representatives from the Florida National Guard recently held "a subject matter expert exchange on Sexual Harassment Assault and Response Prevention (SHARP)" with the Guyana Defence Force.
The discussion was held at the GDF Coast Guard Base at Ruimveldt from February 10-12, a statement from the embassy said yesterday. The interaction covered myriad topics including International Humanitarian Law, Sexual Harassment Prevention and Human Rights.
Discussions were led by Captain Melissa Schuster of the Florida National Guard, the first female officer in the Florida National Guard to ever lead such an event in all of Caricom. She was assisted by Captain Anfernette Heyligar of the GDF. Captain Heyligar is a recent graduate of a US Army Gender Based Violence Seminar and was instrumental in the success of the meeting as she is the Commander of the GDF Health and Welfare Unit.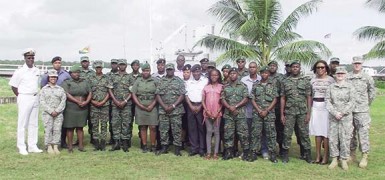 The embassy said the event was scenario driven in order to allow both enlisted ranks and officers to exchange best practices in dealing with sexual harassment and assault prevention. All GDF personnel were able to discuss topics and share ideas on how to address them in a professional manner. The Florida National Guard team introduced their own lessons learned from SHARP incidents and in return the GDF did the same. The teams also discussed the similarities in the incidents and learned tips and techniques to prevent and respond to future incidences of sexual harassment and assault.
According to the press statement, the interaction has set the stage for future SHARP events in Guyana. The US Embassy's Bilateral Affairs Officer is planning a senior level seminar on SHARP in 2016 in Guyana. Last week's meeting was part of a longstanding relationship between the army and the Florida National Guard through the State Partnership Programme.
Around the Web