Sacked Magistrate Chandra Sohan is preparing to challenge the decision to terminate his services, which he thinks may have been due to him being in the way of whomever is being elevated to be the next Chief Magistrate.
Sohan was on Wednesday officially notified of his dismissal, bringing an end to his 15-year career in the local magistracy.
Sohan's firing comes despite the fact that there was a pending case in the Court of Appeal surrounding his challenge of his initial suspension by the Judicial Service Commission (JSC). He was suspended by the commission last December over allegations which were described as actions "bordering on criminality." It was subsequently alleged that he left the country in 2013 without permission, that there were issues with how he had dealt with a matter while sitting at the Vreed-en-Hoop Magistrate's Court and that there were alleged discrepancies in written notes taken by himself and the prosecutor who was presiding in his court.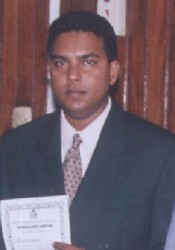 When contacted, Sohan confirmed that he had received a letter from the JSC. He said from his reading of the contents, he was sacked because he refused to participate in an inquiry into his alleged misconduct.
Sohan, who had pointed out previously that he was being unfairly treated, told Stabroek News that this entire ordeal has affected his family. "This has affected me tremendously and has caused my family pain and hardship," he stressed. He indicated that his lawyers are preparing legal proceedings to challenge the JSC's decision.
When Stabroek News spoke to Sohan, he strongly denied that he refused to participate in the commission's inquiry. He clarified that it had been more than a year since his attorney requested information on the allegations surrounding his conduct in the court matter and the discrepancies in written notes but nothing had been forthcoming up to earlier this month, when he appeared before the commission after once again being summoned.
Through his attorney, Sohan said, it was made clear that in the circumstances he could not participate in the inquiry as he did not possess the needed information.
He said his attorney tried unsuccessfully to have the hearing adjourned. He said after the JSC members refused to grant the adjournment, he indicated that he was unprepared to participate in the inquiry.
Sohan added that his suspension "was wrong to start with" because he was never given a hearing. He recalled that the commissioners had never asked him about the issues they were reportedly investigating but rather inquired why he should not be suspended pending a hearing. He said that they had also indicated that they did not care about any matter before the Court of Appeal and were going ahead with their inquiry.
Sohan said that he "is baffled as to what is going on," while adding that he is concerned about the way in which things turned out.
He, however, strongly that his sacking had everything to do with his being in the way of whomever is being elevated to be Chief Magistrate. Current Chief Magistrate Priya Sewnarine-Beharry is scheduled to resign from the post very shortly in order to become a High Court judge.
Stabroek News understands that after Sohan, the recently sacked Geeta Chandan-Edmond was next in line followed by Magistrate Alan Wilson and Magistrate Ann McLennan. Wilson, sources say, may not be given the position as he is on contract and will reach the age of retirement shortly. McLennan, they added, has also been having her share of troubles.
Stabroek News had been told that Sohan received a letter in January last year summoning him to appear before the JSC and from all indications it was not made clear as to why he was needed.
According to a source, Sohan's lawyer wrote to the commission after the first letter was received and inquired about the particulars relating to the court case and the discrepancies.
That information was never provided and Sohan did not appear before the commission.
Then on December 2nd, last year, the source said, Sohan received a second letter from the JSC instructing him to appear the following day. Sohan did appear on that occasion and was suspended indefinitely. At the time, he was presiding in Court Seven at the Georgetown Magistrates' Courts.
Stabroek News was, however, informed that if an inquiry is not held within 60 days then the suspension has to come to an end. Sohan's lawyer later filed a High Court action challenging his suspension but it was refused. Sohan's attorney subsequently appealed that decision.
Two Fridays ago Sohan received a third letter stating that he was required to appear before the commission on February 18. Sohan did appear and his lawyer indicated that the 60 days permitted for the inquiry had elapsed on February 4.
The source had noted that the commission, in its defence, said the rule did not apply in the case.
Sohan has disputed that he left the country without permission. It had been explained that the magistrate had made an application to proceed on compassionate leave. At the time, the Chancellor was out of the country but Sohan was in contact with his secretary.
The Chief Magistrate, who is Sohan's immediate superior, made the necessary arrangements for him to be released for the time requested. Another magistrate was assigned to Sohan's court.
Sohan was fired along with Chandan-Edmond by the JSC. Chandan-Edmond, who at the time was presiding at Court Ten in the Georgetown Magistrate's Courts, was notified last week. It is suspected that the delay in Sohan receiving his letter was because at the time he was not a sitting magistrate.
Chandan-Edmond was said to be discharged from duty due to absenteeism, but a statement from her attorney implied a link between her dismissal and her presiding over the trial of Samuel Hinds Jnr, son of the Prime Minister Samuel Hinds, who she was due to sentence last Friday after finding him guilty of assault.
Around the Web