Eccles Nursery School's literacy and numeracy programme has been boosted with the donation of a television set by Massy Gas Products at a ceremony held at the school at Peter's Hall, East Bank Demerara last Friday.
A release from Massy, stated that Catherine Hinds, Head teacher said she was extremely thankful to Massy Gas Products for coming on board with this venture
"We want to make sure the children can read, write and count as they prepare for primary school education and the television is a learning tool since there are programmes featured on the Learning Channel that promote literacy and numeracy," she added.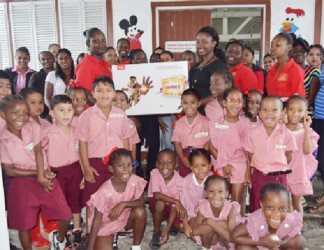 Rhonda Wilson, Human Resources Supervisor of Massy Gas Products said the Company has been supporting the school for a number of years.
Around the Web