After recently completing a three-month prison sentence for threatening to decapitate the mother of his children, a guard will be returning to jail after being found guilty of assaulting her.
Mark Singh, 40, pleaded not guilty to charges that he assaulted and used threatening language against Sujata Persaud, when he appeared in a city court before Magistrate Annette Singh on Thursday.
Prosecutor Adduni Inniss said the crimes were committed on Wednesday, March 11th, when Singh, in an intoxicated state, went to the Lot 150 Regent Street apartment he shares with Persaud and dealt her several blows across her body with his boots and made threats to end her life.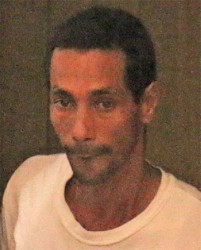 Persaud, after being allowed a chance to speak, told the court that Singh was in the habit of abusing her. She said, "Your worship, this man can't live with me because he is a alcoholic. I am sickly and I got pressure. Yesterday [Wednesday], he beat me in front of me 15-year-old son. I ain able with him anymore."
When asked if he had anything to say to the court, a seemingly remorseful Singh said he was sorry for his actions and made promises to behave himself.
Magistrate Singh took into consideration the fact that this was Singh's second court appearance for matters involving Persaud and ordered him to pay a fine of $10,000 for using threatening language as well as to serve a prison sentence of two months for the assault.
In December, Singh was sentenced to three months in jail after admitting that he told Persaud that he would cut off her neck.
Around the Web