By Rae Wiltshire
"Today I am very proud, sad but proud, proud that Courtney made such a lasting impression on so many….God doesn't sleep, I plead with you, let's keep Courtney alive, don't let him die," Clifford Crum-Ewing said yesterday as his son, slain activist Courtney Crum-Ewing was laid to rest.
His words were greeted with applause from the hundreds, many dressed in red and black, who assembled at Parade Ground yesterday to view the body and deliver tributes.
The casket, draped in the Golden Arrowhead, arrived at 12:30pm and as the hearse made its way through a cramped passageway, mourners held miniature Guyana flags over it. Those who could not sit, stood in the sun while others used umbrellas to shelter from the sun's heat. Several persons were dressed in the uniform of Queen's College – the high school that Crum-Ewing attended.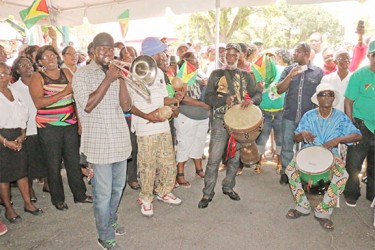 Crum-Ewing was walking the streets of the Diamond Housing Scheme, East Bank Demerara on May 10 using a bullhorn to urge residents to go out and vote at the general elections on May 11th when he was shot dead execution-style. The car-borne gunmen escaped. Crum-Ewing had staged a one-man protest outside the office of Attorney General Anil Nandlall for several weeks last year calling for Nandlall to quit over the contents of a bone-chilling, profanity-laced conversation he had with a reporter of Kaieteur News.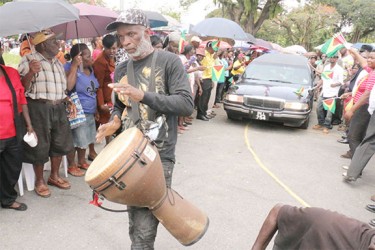 Yesterday, one man led the casket into the venue with finger-sharp drumming as the restless crowd waited anxiously to view the body. The songs of Bob Marley played gently in the background. Among them were "Them belly full," and "War."
Dozens of cars filled Middle and Carmichael streets and traffic officers were on hand to direct traffic.
Crum-Ewing's casket was carried under a shed and it was immediately swarmed by persons who wanted to view the body. Photographers and others had their cameras up in the air trying to get a shot of the body.
Persons were scolded more than a dozen times by the Master of Ceremonies (MC) to form an orderly line if they wanted to view the body. However, her words were lost in the melee. It was not until Crum- Ewing's father, Clifford, asked the crowd to adhere to the MC's request that a line was formed. But some persons were insistent and stayed put in their positions.
The line extended onto Middle Street and it was moving at a turtle's pace. While the body was being viewed, the drummer was joined by a trumpet player and someone began to use a shak-shak, while the crowd sang a sombre rendition of Amazing Grace.
The viewing was then cut short as the time for the church service at the Heavenly Light Full Gospel Church in Albouystown was approaching. The singing ceased and persons began to pay tribute to the slain political activist.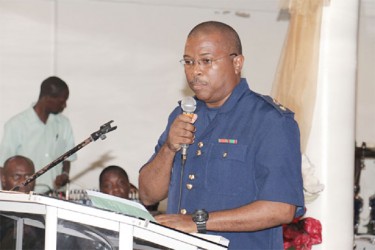 "I am Courtney," publisher of the Kaieteur News Glen Lall said. He asked the crowd, "You are?" and they responded with a resounding, "Courtney." He did this several times and every time a resounding "Courtney" was shouted.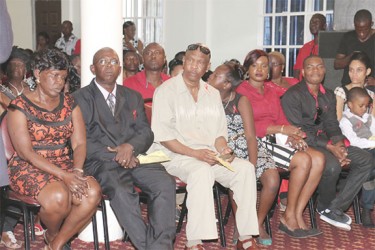 "I have a pledge to make, and my pledge is as long as I sit at the helm of Kaieteur News, you will see Courtney's name and face until justice is served," Lall said as the crowd roared.
According to Lall, since Crum-Ewing died, Kaieteur News has been bombarded by persons to start a fund for the slain activist's children and he has since written to Minister of Home Affairs Clement Rohee seeking permission to do so.
Lall said he felt Crum-Ewing's fiery passion when he first met him protesting in front of the office of the Director of Public Prosecutions. He quoted the words of publisher of the French satirical magazine Charlie Hebdo: "I'd rather die standing, than to live on my knees."
Lall said those words are reminiscent of Crum-Ewing. "Is a pencil a weapon," he asked the crowd, "Is a bullhorn a weapon?"
"No" the crowd said sadly.
"Courtney walked the walk, Courtney talked the talk," Lall said.
Kaieteur News Columnist Freddie Kissoon said: "I come here to praise Courtney, not to bury him, his greatness will live long after him, his courage will not be interred with his bones, Courtney is not dead, and therefore, I cannot say I am offering a funeral eulogy. Heroes never die." His statement was greeted with loud applause.
Kissoon said that he will keep a promise that he made to Crum-Ewing. He said that he hasn't drunk alcohol in his entire life but on May 12, he will have a drink. The crowd roared with laughter.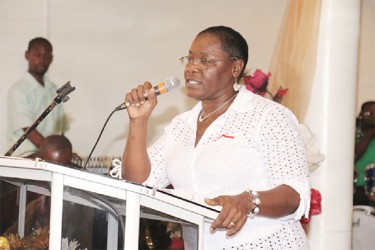 "I will thank Courtney where we had the vigil and I will thank him for his services to Guyana," Kissoon said after the crowd's laughter died. He added that he will see his fellow soldier on May 12.
"This is something that has touched a serious nerve in society," WPA leader Dr Rupert Roopnaraine said. "Courtney was only armed with a microphone and he was silenced for his voice."
Roopnaraine said the country has turned a "corner" and those who are responsible for Crum-Ewing's killing will be cowering in darkness because Courtney lived in light.
"I believe we have entered an unfortunate phase where a man can be shot just because he has a bullhorn," General Secretary of APNU Joseph Harmon said. "I am not going to point fingers but we have to ask ourselves who is going to benefit the most from Crum-Ewing's death."
Harmon said Crum-Ewing died in the prime of his youth and it is sad that he was gunned down in such a brutal manner. He said all Crum-Ewing was doing was exercising his right. Harmon said he understands that people are feeling "raw emotions" and he urged them to be responsible and not let the killing provoke them to violence.
"Vengeance is mine, I will repay, says the lord," was the quote from Romans 12:19 on the placard that greeted Crum-Ewing's casket when it first arrived. "There's a spirit of wickedness in our country," Conrad Parks said. He was the man holding the placard.
"All of us will have to face judgment, we need betterment, we need to freely protest against injustices and we have to protest without having to die for it," Parks declared. "We living in mock-racy, not democracy, the rich gets away and the poor suffers, it's too much for us to take."
One woman, who asked not to be named, said she was there because she believed in the Constitution and the freedom of speech.
She said persons should be able to go into a public space and protest without being targeted regardless of their political views. She said that she attended the ceremony to show her support for someone who has given his life to freedom.
At the ending of the funeral, the bullhorn that Courtney was using when he encouraged persons to vote at the Diamond/Grove Housing Scheme was placed on his casket and the audience cheered wildly.
Around the Web