Base Commander for Camp Stephenson Colonel Wilbert Lee has passed the baton to Lieutenant Colonel Terry Benn as he prepares to go into retirement in July.
A Guyana Defence Force (GDF) statement said the command of Base Camp Stephenson was handed over to Lt Col Terry Benn on Wednesday. Benn was the former Commanding Officer of the Training Corps.
Colonel Lee, who served the force for 36 years, stated at his farewell parade on Thursday that he was appreciative of every service member who played a critical role in his career.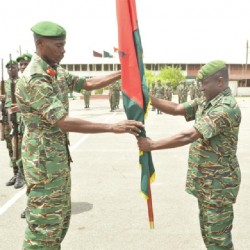 The statement said he emphasised that their inputs attributed to his professional development in his formative years.
The statement added that Lee recollected how he had enlisted as a private soldier without informing his parents in 1979.
He noted that the changes to his rank were indicative of his growth and development in the army during his tenure.
He stated that he was raised in poverty but had a supportive mother who embraced a brighter future for him and his siblings.
"My mother ensured that our poverty did not become a matter of public ridicule by any act of dishonesty or lawlessness, but instead she taught us the value of hard work, thrift, dedication… and the fact that a good education was the escape hatch from poverty and decadence. Thanks to my mother, I escaped," the statement quoted him as saying.
Lee officially retires on July 22.
Around the Web