A prison officer now finds himself the one behind bars after he was allegedly found with quantities of marijuana and cigarettes at the Camp Street Prison.
Clayton Johnson, of Lot 94 Herstelling, East Bank Demerara, pleaded not guilty when he was arraigned yesterday on two charges at the Georgetown Magistrates' Court 1.
It is alleged that on March 17, at the Camp Street Prison, Georgetown, Johnson had 22 grammes of cannabis in his possession for the purpose of trafficking.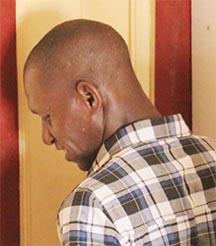 It is also alleged that on the same day, he took 16 packs of cigarettes into the prison.
Johnson's attorney asked Chief Magistrate Priya Sewnarine-Beharry for bail to be granted, while saying his client was at work, sitting in his office were others persons were also present, when the discovery was made. He also said nothing was found on Johnson's person.
But Police Prosecutor Michael Grant informed the court that Johnson reported for duty on Tuesday at 9:20 AM. He said Johnson was performing his normal functions when two other prison officers arrived, told him of certain information they received and asked to conduct a search. As a result, he noted, the suspected cannabis was found in Johnson's pants crotch, while the packs of cigarettes were found at other parts of his body.
Grant objected to bail based on the nature, gravity and prevalence of the offences. He also noted for bail to be granted special reasons must be provided to the court.
Bail was refused and the matter was adjourned to April 1, when it will be called again before Magistrate Judy Latchman.
Around the Web