Demerara Distillers Limited's (DDL) after-tax profit for 2014 was 38.4% above the preceding year while for the Group, after-tax profit was up by 23.9%.
Describing the year as an excellent one for the Group, Chairman Komal Samaroo said that the Group's profit before taxation was $2.653 billion for 2014 compared to $2.205 billion in the preceding period. This was an increase of $448 million or 20%, the highest profit growth of the Group in any year, Samaroo said in his Chairman's presentation in the 2014 annual report.
He said that gross profit for the year was up by 8% over the preceding year and 3% of this was derived from turnover and 5% from increased margins.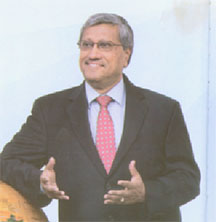 Turnover for DDL moved from $11.449 billion in 2013 to $12.6 billion last year. Selling and administration expenses for DDL rose from $698 million in 2013 to $982 million last year. On the other hand, administration expenses declined from $1.1 billion in 2013 to $898 million last year. Taxation for DDL for 2014 amounted to $447 million compared to $312 million in 2013.
For DDL, basic earnings per share in dollars moved from 1.49 in 2013 to 2.07 last year. For the Group, the figure moved from 2.04 in 2013 to 2.53 last year.
Samaroo, who took over on January 2 last year from long-serving Chairman Yesu Persaud, said that international branded sales of DDL products rose by 24% while international bulk rum sales dropped by 14% over the period.
The DDL Chairman asserted that the company's brands experienced strong growth in North American and the Caribbean. He said that in Canada where the overall rum market diminished by 1.7%, DDL's brands experienced expansion of 35%. In the US, Samaroo said that DDL's brands experienced growth of 25% even though the rum market there contracted by 0.8%.
Addressing the performance of subsidiaries, Samaroo said that Demerara Shipping Company registered profit before tax of $217 million for 2014 compared to $185 million in the preceding year. Distribution Services Limited was hit by the illegal importation of several of the brands it represents. Its profit before tax was $313 million in 2014 compared to $455 million in 2013. Tropical Orchard Products Limited registered profit before tax of $22.5 million last year compared to $20.9 million in 2013.
All of the Group's overseas subsidiaries saw reduced profits. Samaroo said that St Kitts notched up profit before tax of $47.5 million for 2014 which was below the previous year's profit of $54.4 million. He said that Demerara Distillers USA Inc invested substantially in marketing and brand building activities and so its profit slid from $36 million in 2013 to $2.4 million last year. Demerara Distillers Europe had a poor year, Samaroo said, registering a loss of $17 million compared to a profit of $122 million in 2013. Samaroo said that the bulk rum business has seen intense competition from heavily subsidized sources.
In terms of capital expenditure, Samaroo said that the planned upgrading of wharf facilities was deferred to this year as additional land has to be acquired. He said that the Group will also be investing in its information technology infrastructure to bring business processes in line with best practice.
The Chairman said early indications are that 2015 will be a challenging year. He said the domestic market may be affected by uncertainty connected to the impending general elections and this could prevail for most of the first half of the year.
DDL proposed and paid an interim dividend of $0.16 per share in December last year and the directors have recommended a final dividend of $0.44 per share. In 2013, a total dividend of $0.58 per share was paid.
The company's 63rd Annual General Meeting will be held at its Diamond Complex on Friday at 4.30 pm.
Around the Web