By Roger Wong
Alicia Ali, the schoolgirl whose nude body was discovered on Wednesday at the seawall near Turkeyen, died as a result of asphyxia due to drowning, compounded by compression injury to the neck and blunt trauma to the head, an autopsy found yesterday.
The findings of the autopsy came a day after the discovery of an apparent suicide note written by 14-year-old Ali to her mother, Maylene Williams. Her family, meanwhile, remains suspicious about her death and yesterday relatives said there was no indication that she was planning to commit suicide.
Superintendent of Police Hugh Jessemy said that based on the results of the autopsy, which was conducted by Pathologist Dr. Nehaul Singh, it is difficult to rule out suicide but he related that the police are still carrying out investigations with the hope of determining whether the girl's death was a suicide or a homicide.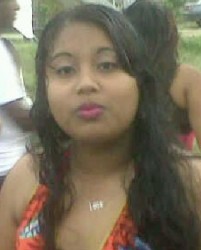 In a statement issued yesterday, police noted the discovery of the suicide note, written by Ali and addressed to her mother, in her room at her Cummings Lodge home.
The police have also questioned a male friend of the teen, who was a Third Form student of the Campbellville Secondary, in hopes of shedding light on her death.
Alicia's older sister, Ateesha, expressed concerns yesterday about the police investigation as she questioned the whereabouts of her sister's clothing. "It very rough," said the woman, as she noted that she also witnessed the post-mortem examination.
Ali's body had visible black and blue marks while her face and neck were swollen, Ateesha said. Her little sister would have celebrated her 15th birthday in August, she noted.
Another relative was furious after she learned about the results of the examination and she said that she was confident that the teenager was murdered. "If she drowned or them seh she commit suicide, wheh she clath gone? How she na had no clath?" the distressed woman questioned.
Shocked relatives were yesterday preparing for Ali's funeral while still trying to come to grips with her sudden death.
Last Sunday, Ali visited all her relatives at Windsor Forest and La Jalousie, on the West Coast of Demerara and they said she gave no indication of anything they could possibly link to her death.
Although they are aware of the note which the police discovered in the girl's room, they said they were not knowledgeable of its contents since it was not shown to them.
Her sister also revealed that the teen had a previous misunderstanding with a male friend of her mother but she could not say whether it had any connection to the death of the teen.
An uncle of the girl, who is visiting from overseas and has since been accommodating the wake at his home at Windsor Forest, said the girl visited him on Sunday and promised that if he was still in Guyana she would return to spend one week with him when the school term ended.
Ahmad Ali, Alicia's grandfather, described her as "very, very quiet." "She been here Sunday and she promise fuh come back fuh spend the holiday right here today… she grow up right here from baby and when she start high school, then she move out," Ahmad said as he reminisced fun moments with Ali, who visited him on a regular basis. He also pointed to his eight-year-old grandson, whom he referred to as Alicia's pet.
Stabroek News had been told by a friend of the teen's mother that the girl was sent to buy bread at a nearby shop at about 7 PM on Tuesday. But after she did not return, her mother began a search with the help of neighbours.
A missing person's report was then filed at the Sparendaam Police Station and the body was discovered the following day. After the discovery, Ali was later identified at the Lyken Funeral Parlour by her mother.
Around the Web