After being found guilty of taking $2 million in an armed robbery, Jimmy Myers will be spending the next two years in jail.
Magistrate Fabayo Azore handed down the sentence yesterday at the Georgetown Magistrates' Court 5, where Myers had been on trial.
Myers, a father of three of Lot 1 East Ruimveldt Housing Scheme, was charged with robbing Derrick Khan of $2 million, while being armed with a gun, on October 17, 2014 on Regent Street.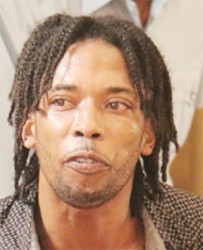 He had denied the charge.
Myers, after learning of his fate yesterday, exploded with anger and had to be restrained by officers.
The police's case was that Khan left a Scotiabank outlet with two brown envelopes, each containing $1 million, and was then accosted by the armed Myers, who tried to get him to release the money.
However, a scuffle then broke out between the two men and a round went off, after which Khan, out of fear, released the money. The accused then made good his escape on a waiting motorcycle.
The attack was reported to the police and investigations were conducted and Myers was positively identified by Khan in an identification parade.
Around the Web