The Ministry of Public Works on Thursday set up a temporary pedestrian walkway for residents of Eastville Housing Scheme, after the main bridge into the community collapsed under the weight of a loaded heavy-duty truck.
H.Nauth and Sons Civil Engineering Contractors, the firm responsible for the truck that was crossing the bridge when it caved in, helped to build the walkway. The engineering company has also taken up the responsibility to reconstruct the bridge.
Residents, however, remain incensed that they have to park their vehicles along the Annandale Railway Embankment. "There is no street lights to protect the vehicles at night… one little floodlight can't light up the whole stretch of area where we have to park our cars," a resident complained on Saturday. The man stated that the lighting system set up by the contracting firm is only providing light for vehicles parked directly in front of where it is set up.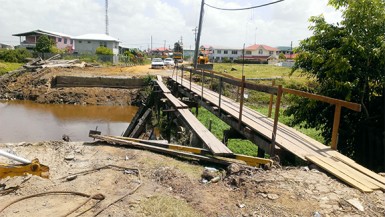 "It is very much inconveniencing my family and I, because I don't have an alarm system on my vehicle, so I'm fearful at nights to park all the way on the road," he said. Another resident, who is a food vendor in Georgetown, stated that since the bridge collapsed she had to pay a man to fetch her groceries and meat into the community. "Doing this every day now is getting stressful.
They need to do something quick because almost everybody in Eastville have their own vehicle," she said. A source at H. Nauth and Sons told Stabroek News on Thursday that the firm will begin reconstruction of the bridge as soon as materials are purchased. The source stated that the bridge will be made of wood and that a design provided by the Public Works Ministry would be followed.
Last Wednesday, the main bridge into the community caved in under the weight of the heavy-duty truck loaded with sand. The truck was transporting the material to build the neighbourhood's access road, which is being undertaken by the Ministry of Public Works.
Around the Web