Route 40 minibus conductor Ragesh Ragbeer is feared to be paralysed from the waist down after he was knocked down by a car while crossing the road last month.
According to Ragbeer, on May 17 he had just disembarked the Route 40 bus he worked on and was crossing the road to purchase a snack when "out of nowhere the car come and knock me down."
"All I remember is he [the driver] saying he not responsible for me and if he carry me to the hospital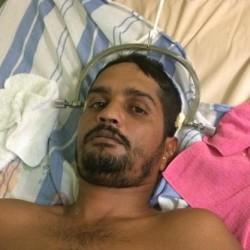 the police will lock he up," the 31-year-old father of four told Stabroek News on Tuesday. Ragbeer also remembers lying on the road unable to move and the driver of the bus he works on and public-spirited citizens rendering assistance and taking him to the hospital.
However, he said the driver of the car visits him often at the hospital and has promised assistance. "He does usually come and bring stuff for me and he seh he will look after he car," Ragbeer said.
Ragbeer, of 76 Sheriff Street Campbellville said doctors have told him that he suffered severe spinal damage and had fractured several bones about his body. He is not sure whether he will be able to walk again but said his doctors are optimistic and they are expecting significant improvement by December.
The man said he has only been in contact with his adopted family and his biological family are ignorant of his accident. He has a sister, Elizabeth "Asha" Persaud of Better Hope, and a brother, Ganesh Latchman also known as 'Sonno' of Clonbrook, Ann's Grove, East Coast Demerara. Anyone having information about Ragbeer's siblings is asked to contact his adopted family on telephone number 225-0545.
Around the Web