Ravin Singh was yesterday sentenced to two years in jail after being found guilty of causing the death of an elderly woman almost one year ago.
Singh, 28, of Lot 46 North East Grove, East Bank Demerara (EBD) first appeared in court on September 1 of last year where he was accused of driving motor lorry GNN 8467, with trailer TPP 2337, in a manner dangerous to the public thereby causing the death of 73-year-old Rajmattie Ram on July 14, 2014. He was placed on $1 million bail.
During yesterday's hearing, which concluded a lengthy trial at the Georgetown Magistrates' Court 3 before Magistrate Judy Latchman, Singh was found guilty of causing the death of Ram by dangerous driving.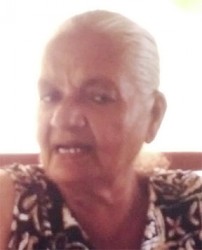 The magistrate, after reviewing all of the evidence given throughout the trial, which included the testimony of the de-ceased's grandson who was with her at the time of the accident, ruled that there was enough evidence that Singh fell short of the standard and care of a competent driver. She therefore found him guilty as charged.
The sentencing decision was made after she took into consideration the fact that he had assisted to remove the body from under the lorry after the accident and cooperated fully with the police throughout the investigation.
Singh was represented by Attorney Deborah Kumar from the inception. Kumar yesterday begged the court to be lenient and merciful when handing down sentence while noting that the circumstances of the case were rather unfortunate.
She said that prior to July 14, 2014, Singh held an unblemished record with no previous charges or convictions.
Stabroek News had previously reported that Ram, formerly of Triumph, East Coast Demerara, was struck down by a motor lorry on Avenue of the Republic, at the junction with Robb Street. She was later pronounced dead on arrival at the Georgetown Public Hospital.
Her daughter, Bonita Ram, had told this newspaper that the woman was with her seven-year-old grandson at the time of the accident. Bonita had said that her mother pushed her grandson out of the lorry's way and took the full impact. A post-mortem examination performed on the dead woman had revealed that she died as a result of severe blunt trauma to the body which included compression to the chest.
Yesterday when the matter was called the courtroom was packed to capacity; most of the seats were taken up by Singh's relatives.
After the decision was handed down, he was escorted out of the courtroom with tears in his eyes while his mother and other relatives broke down in tears.
Around the Web