A man was on Saturday evening arrested in connection with the June 1 robbery/murder of East Coast Demerara rice farmer Hardat Kissoon, who was shot once to his chest and robbed of a bag containing money while he was in a minibus heading home.
Kissoon, called `Buju' of Cane Grove, Mahaica died instantly on June 1 after being shot once in the chest by a gunman who escaped on a motorcycle which was parked on the University of Guyana access road. At the time of the incident, he was returning from a city bank where he had changed a cheque for over half a million dollars. The cash was snatched and he was shot. He was rushed to the Georgetown Public Hospital but was pronounced dead on arrival.
Crime Chief Wendell Blanhum told Stabroek News yesterday that the suspect was held at around 7pm on Saturday while he was at a casino located on the East Bank of Demerara.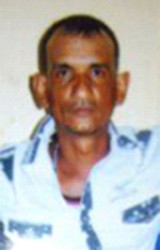 The police had received information on his presence there. The man, according to Blanhum, is well known to the police since he was charged previously for several armed robberies. He is currently in police custody and investigators are questioning him in relation to the murder.
Blanhum also disclosed that the police were able to identify the suspect after reviewing CCTV footage. The footage also revealed another suspect but, currently, he is still at large although lawmen have received some information about him.
Speaking with Stabroek News yesterday, Samantha Ramgobin, a sister-in-law of the dead man said that after the incident, her entire family has been hoping that the person/s that committed the gruesome act would be caught and face the full consequences.
She said that receiving the news yesterday about someone being held has shown that the police have been doing their job.
At the same time though, the woman said, she hopes that whoever else played a part in the act will soon be caught since, for her, having one suspect may lead to some information about the other/s. The family, Ramgobin added, will not give up and let the matter rest until they receive justice.
Around the Web