Thrust into an unexpected role, an elderly caregiver is pleading for help to care for Ragesh Ragbeer, a bus conductor who was left paralysed from the waist down after he was struck by a car almost a month and a half ago.
Ragbeer, 31, was discharged from the Georgetown Public Hospital a few days ago and is in now in the care of Rani Samaroo, 63, of Lot 76 Sheriff Street, Campbellville, who says that although she is willing, she is incapable of caring for the partly paralysed man due to her age. "Even is for somebody to come here and look after him, I won't mind. Or, if I get him to go to some home, I will go and visit him but is just for someone to look after him," Samaroo told Stabroek News.
According to Samaroo, while Ragbeer is no way related to her, she had cared for him since he was 13, when he was brought to her home by her son, who said he was a friend who lost his parents and had no one.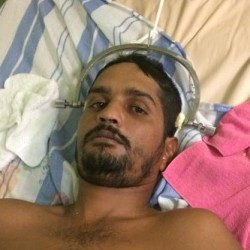 Ragbeer stayed until a few years ago, when he left for a job in the interior. There, he got married and fathered four children, who currently reside in Lethem with their mother. Before the accident, Ragbeer had returned from the interior and had started to work as a minibus conductor.
Samaroo said the man's family is aware of Ragbeer's condition since she contacted his wife via telephone. However, she was told that they are poor people who cannot afford to travel to Georgetown.
Samaroo, however, says they did not make any extra effort to travel although she informed them that Ragbeer is bedridden in the bottom flat of her two-storey house.
Samaroo said it is hard for her to look after and manage him on her own since she is an elderly woman who is only barely managing to care for her husband and two grandchildren. She said she has been trying her best with the assistance of random people she asks for help on a daily basis.
Before Ragbeer was discharged from the hospital, Samaroo said she was informed by the doctors that there was nothing else they could do for him. She was also told by other persons at the hospital that he would not be able to stay there since they needed the bed for others. With that said, the elderly woman was left with no other option but to take Ragbeer home although she still thinks the hospital could have done much more for him.
She said Ragbeer's sister, who is also sickly, and his brother, both visited him while he was at the hospital and had promised to return and render assistance. But they have not done anything to date. She still tries to make contact with them every day for help but has been unsuccessful. She was provided with a number for the man's brother but every times she calls he has been unreachable.
Meanwhile, the man that allegedly hit Ragbeer visited the home yesterday along with a police officer and offered to settle the matter by providing Ragbeer with $5,000 weekly. But Samaroo said she cannot accept it since it is a very small amount. The money offered, she said, cannot even be used to pay someone daily to look after the man, which already entails getting him daily meals, pampers, and other necessities.
She is therefore calling for any form of assistance to aid in his well-being and maintenance.
Ragbeer had previously told this newspaper that on May 17th, he had just disembarked the Route 40 bus which he worked on and was crossing a road to purchase a snack when "out of nowhere the car come and knock me down." He had related, "All I remember is he [the driver] saying he not responsible for me and if he carry me to the hospital the police will lock he up," he stated. Ragbeer said the driver of the bus he worked on and public-spirited citizens rendered assistance and took him to the hospital. He sustained severe spinal damage and had fractured several bones about his body.
Around the Web