After recently completing a prison sentence, Odel Roberts, 19, was yesterday charged with the murder of Sophia shopkeeper Shawn Anys, who was shot dead in front of his children when bandits invaded his home over two months ago. Roberts, of Lot 124 'C' Field, Sophia, was not required to plead to the charge when he appeared before Magistrate Ann McLennan at the Georgetown Magistrate's Court 2.
But the unrepresented Roberts denied the charge after it was read to him. "My worship, I don't know nothing. I don't even know who is this man they say I murder and I just came out of jail," he told the court.
Roberts was brought before the court previously for robbery and has just completed serving a prison term for the crime.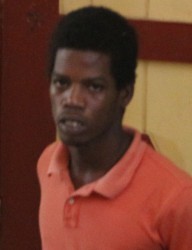 According to the charge read against him, Roberts murdered Anys on May 1st, at Sophia, pursuant to a robbery.
Anys, 37, of Lot 743 'D' Field, Sophia was killed after armed bandits shot him to his chest and neck in a home invasion.
The police had said that around 10:50PM, Anys went out into his yard to make a check because his dogs were barking continuously. He was, however, confronted by two men, one of whom was armed with a handgun. During the confrontation, he was shot to his body by the perpetrators, who then entered the home and took away a laptop computer, two cell phones and $40,000 and escaped.
Around the Web