An Air Services Agree-ment was signed on Tuesday between Guyana and the United Arab Emirates (UAE) in Montreal, Canada.
The agreement was signed by Minister in the Ministry of Public Infra-structure, Annette Fergu-son and allows for operations by airlines from either State.
A release from the Cheddi Jagan International Airport Corporation said that Ferguson and Chitrani Heeralall, Direc-tor General (ag), Guyana Civil Aviation Authority are currently attending   the International Civil Aviation Organisation (ICAO) World Aviation Forum (WAF) 2015 at the ICAO Headquarters in Montreal.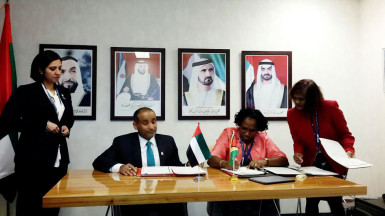 Ferguson, the release said, alluded to the UAE being the home of two of the world's best airlines, Etihad and Emirates and hopes that at least one will operate into Guyana.
The ICAO World Aviation Forum 2015 is themed "Aviation Partner-ship for Sustainable Development". The re-lease said that the ICAO recently launched its No Country Left Behind initiative to better identify and coordinate assistance to States that require it.
The release said that many of the developed countries and the donor community have applauded ICAO's No Country Left Behind initiative and have pledged their continued support for collaboration.
Guyana will be seeking support from the ICAO for technical assistance to improve the level of compliance with ICAO Standards, the release said.
Ferguson told a session of the forum that "Guyana joins with the rest of the aviation world to congratulate ICAO on this No Country Left Behind initiative and is heartened to hear from the developed countries, their pledge for continued support and collaboration with ICAO and its member States to ensure that No country is Left Behind".
She said that "many States here share similar challenges in financing aviation projects to enable their economic development and I am sure our esteemed panel will share perspectives on global investment and aviation development and encourage donors to assist in enabling economic development through financing of various aviation projects so that the spirit of the No Country Left Behind initiative of ICAO can be realized for the positive impact on the economic and social development of all States".
Guyana's two representatives at this Forum will continue their discussions to seek technical and financial assistance for Guyana's aviation development.
Around the Web