The post-mortem examination on the body that was found on Saturday afternoon behind the Park Vue Hotel at Farm, East Bank Demerara is expected to be done today.
Samaroo Seepersaud had left his home early Friday morning for his routine exercise and run and was subsequently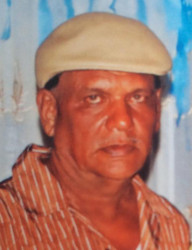 found dead the following day. While the cause of the man's death is still unknown, relatives related to Stabroek News yesterday that the post mortem examination is to be done today. The man's body was not found with any marks of violence and it is believed that he may have died from natural causes. His family said that they weren't aware of any illnesses and he was not acting in any way different before his death.
"We don't think it was foul play or anything but we don't understand how he just dead like that. We just come back from a wedding the other day and he was good," one of the relatives said, stating that the man had been doing his routine exercise for over two years and never once had a problem with it.
Around the Web