A six-year-old child of Richmond Housing Scheme, Essequibo Coast went missing on Wednesday last and his family is seeking help in finding him.
Daniel Adolphus, a grade one student of CV Nunes Primary School was last seen by his father on Wednesday at around 7pm.
He is the eldest child and has two younger siblings who live with their mother.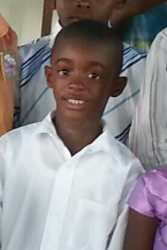 Speaking with Stabroek News yesterday, aunt of the missing child, Pauline Benn said that her brother, Junior Adolphus, the father of Daniel called his sisters on Thursday morning asking if any of them had seen the child.
The woman explained that in April of this year, her brother had attempted to injure the child after he claimed that he was hearing voices. The child did not suffer any serious injuries but the matter was reported to the police and the man was placed before the court and was deemed to be of unstable mind after he was evaluated by a medical doctor following a court order.
Benn said that her brother now uses medication that would aid in preventing any mental lapses.
"Daniel lives with his mother in Georgetown but his mother sent him with his father last week Sunday because she said that he had to write test.
"On Thursday morning I went out to Richmond and I asked Junior what really happened and he told me that he and Daniel was watching TV on Wednesday night. He said he got up and went and drink his medication and then went to bed and he fell asleep and didn't wake up till around midnight. He said when he get up the door was open and he didn't see Daniel nowhere around. That's when he called my other sisters and asked if Daniel was by them but they told him no."
The woman said a report was made at the Anna Regina Police Station and her brother was taken into custody for questioning but was later released.
"On Thursday we went around asking neighbours but they all said that they didn't see Daniel neither did they hear anything during Wednesday night. I keep asking my brother what he remember and if he take his medication and he said yes that he did drink his tablets. He said that on Wednesday he called Daniel mother and tell her to come to Essequibo to assist with Daniel but she didn't come until Thursday when she heard that Daniel was missing.
"After we raise a alarm,  residents of Richmond help us from Thursday up until this afternoon (Sunday) to look for Daniel. The police checked the house and residents checked trenches and old houses in the area but there was still no sign of him."
Anyone knowing the whereabouts of Daniel Adolphus is asked to contact telephone numbers 696-5665, 679-1030, 645-1891 or any nearby police station.
Around the Web