It seems the nation's senior football programme will be taking a familiar course as Trinidadian Jamaal Shabazz is considered the favourite by the Guyana Football Federation (GFF) to retain his position as Head-Coach of the Golden Jaguars.
Shabazz, who was hired on January 12 for the Barbados fixture which resulted in 2-2 draw, was at the helm of the national setup on two previous occasions.
The Trinidad and Tobago native created history when he oversaw the local unit's record setting FIFA World Cup 2014 campaign in his previous stint.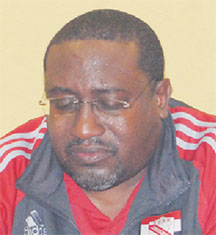 The Golden Jaguars, under the leadership of the Trinidadian, qualified for the CONCACAF semi-finals of World Cup qualifying for the first time in their history. They would also go onto achieve their best ever FIFA ranking of 86th during the month of November 2010 during his tenure.
Chairman of the GFF Normalization Committee Clinton Urling during an exclusive interview said the Caledonia AIA Manager is considered the favourite to retain the post after his one game appointment
According to Urling "The NC and Shabazz are currently negotiating a way forward. A decision would be made within the coming weeks. We held a closed door meeting with the national players on Friday February 06 and received positive feedback from them on the entire encampment and game experiences."
He added:"Additionally, there was unequivocal support and endorsement for the Coach and technical team for their performance and professionalism for the Barbados engagement".
However Urling noted "A lot will come down to the existing reality of the GFF financial situation and what remuneration we can offer. In other territories, like Trinidad for example, government or corporate sponsors pay the Head Coach and TDs".
"However, in our context, there is no such support and the federation is left to absorb all costs," he added.
Around the Web