NORTH SOUND, Antigua, CMC – Off-spinner Rahkeem Cornwall snatched a career-best seven wicket haul but Guyana Jaguars maintained their upper hand on Leeward Islands Hurricanes on the second day of their WICB Professional Cricket League contest here yesterday.
Resuming on 14 without loss, Guyana Jaguars were dismissed for 267 – a healthy lead of 128 runs – with opener Rajindra Chandrika hammering a top score of 83.
Captain and Test left-hander Leon Johnson chipped in with 48 and his West Indies teammate Narsingh Deonarine got 32.
Cornwall shone with seven for 96, limiting Jaguars' attempt to run away with the game. They were 182 for two at one stage with Chandrika and Deonarine going great guns but lost their last eight wickets for 85 runs.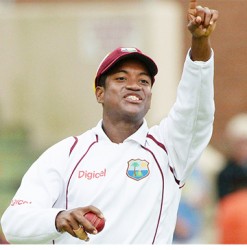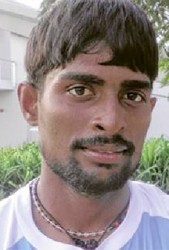 At the close, the Leewards were 36 for one, with Sherwin Peters on 22 not out. They trail by 92 runs heading into Sunday's third day at the Vivian Richards Cricket Ground.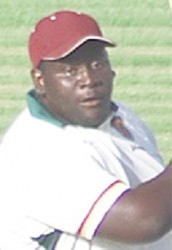 Chandrika and Vishaul Singh posted 55 for the first wicket with Singh hitting 23 off 57 balls before becoming Cornwall's first wicket.
Jaguars then flourished through an 89-run, second wicket stand between Chandrika and Johnson, as the visitors reached 137 for one at lunch.
Overall, Chandrika faced 182 balls in 3-3/4 hours at the crease and struck 11 fours while Johnson consumed 97 balls in 98 minutes, and thumped three fours and three sixes.
When Johnson was caught and bowled by Cornwall after the break, Chandrika put on another 38 for the third wicket with Deonarine to keep Jaguars on top.
However, once Chandrika fell, Jaguars were unable to find a talisman as veteran Test left-hander Shiv Chanderpaul perished cheaply for 11 and Chris Barnwell lost his wicket after making 25.
Scoreboard
LEEWARD ISLANDS HURRICANES 1stInnings 139
GUYANA JAGUARS 1st Innings
(overnight 14 without loss)
V Singh c Thomas b Cornwall                                       23
R Chandrika c Hodge b Cornwall                                  83
*L Johnson c and b Cornwall                                        48
N Deonarine cThomas b Cornwall                                32
S Chanderpaul c Cornwall b Peters                              11
R Reifer lbw b Cornwall                                                 16
C Barnwell c Peters b Walsh Jr                                    25
+A Bramble c Louis b Cornwall                                       0
V Permaul c Thomas b Cornwall                                   12
D Bishoo c Thomas b Walsh Jr                                        2
R Beaton not out                                                              0
Extras (b5, lb3, w5, nb2)                                               15
TOTAL (all out, 92.4 overs)                                         267
Fall of wickets: 1-55, 2-144, 3-182, 4-202, 5-214, 6-253, 7-253, 8-253, 9-263, 10-267.
Bowling: Tonge 4.4-3-7-0, Louis 6-1-26-0, Boatswain 5.2-0-23-0, Peters 16-7-28-1, Cornwall 33.4-8-96-7, Walsh 27-3-79-2.
LEEWARD ISLANDS HURRICANES 2nd Innings
A Richards b Deonarine                                               14
S Peters not out                                                            22
Q Boatswain not out                                                         0
TOTAL (1 wkt, 18 overs)                                             36
Fall of wickets: 1-28.
Bowling: Beaton 2-1-4-0, Reifer 2-1-6-0, Permaul 5-1-11-0, Bishoo 6-1-14-0, Deonarine 2-1-1-1, Barnwell 1-1-0-0.
Position: Leewards trail by 92 runs with nine second innings wickets intact.
Umpires: G Brathwaite, P Gustard.
Around the Web