Wins feature event at Rising Sun Sprint Classic
Spit Fire looked like just another race horse at the Rising Sun Turf Club Sprint Classic yesterday.
Until the final two furlongs that is.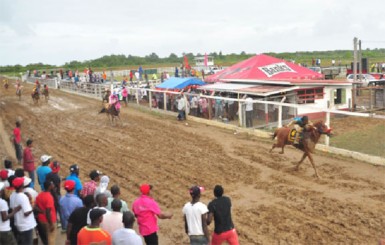 That is when the thoroughbred, with jockey Rodrigues (only name given) in the stirrups pinned back its ears and kicked clear to win the feature D and Lower 1100m event beating a deep nine-horse field in the process.
The Dark Brown colt stormed out of far post and bided its time while the highly regarded Right to Rule and Release the Beast set a blistering pace on the muddy track.
The move under the cloudy sky came in a flash. Right to Rule had the lead, Release the Beast and Appealing Harvest were lurking while jockey Rodrigues was waiting for the right moment to go.
Around the first turn, Rodrigues angled the champion race horse to the outside of the pace setters and the trotters were neck-and-neck with three furlongs to go.
And then the theatrics started to unfold.
Spit Fire went clear, his lead building with every powerful stride and then it happened.
With one breathtaking surge over the final two furlongs, the Shariff Racing Stable thoroughbred with the field on his hip seemingly never tired, displayed superb sprinting speed and drew off on the home straight to claim the $1M first prize.
Not bad for 1m: 15.02s of work.
Spit Fire won by about five lengths ahead of Right to Rule. Release the Beast and Appealing Harvest were a further two lengths back in third and fourth.
Before the feature event, there were six races. Here is the summary of them:
Race 1 (3 Years Old Guyana Bred)
Slim Shady ($250,000)
Amazon Warrior
Secret Escape
Race 2 (E3 and Lower)
Release De Beast ($500,000)
Goodwill Boy
Swing Easy
Settle in Seattle
Race 3 (J3 and Lower)
Affinity ($150,000)
Miss Regina
Trigger
Dance For Gold
Race 4 (G1 and Lower)
Sent From Above ($400,00)
Joyful Victory
Settling Jet
Shooting Star
Race 5 (3 Year Old West Indian Bred)
It's My Choice ($500,000)
Storm Bird
Midnight Blue
Miss Lewinsky
Race 6 (I3 and Lower)
Mary Ann ($200,000)
Red Jet
De Gump
Little
All the events were contested at 1100m.
In excess of $7m was awarded to the steed owners at yesterday's sprint classic.
The L. Singh stable took home the best stable trophy while Paul Delph was adjudged the best jockey of the day.
The 'Sport of Kings' continues on March 8 at the Port Mourant Turf Club. (Emmerson Campbell)
Around the Web