(Trinidad Express) Chris Gayle has been officially written by the Disciplinary Committee of the West Indies Cricket Board (WICB) about his outburst at the post-match presentation during the recently concluded tour of South Africa.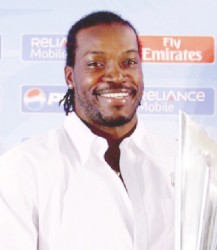 It is unclear what disciplinary measures Gayle will face or if he has just been reprimanded, but a source close to the West Indies opener confirmed that he received the letter while in New Zealand at the ICC Cricket World Cup.
It was at the conclusion of the second T20 against the Proteas in South Africa last month when the West Indies were confirmed as series winners, that Gayle publicly stated his disagreement with the composition of the World Cup squad minus Dwayne Bravo and Kieron Pollard.
He said then: "How can those two guys not be in the team? To me it [has] got to be like victimisation when you look at it towards those two guys. Come on … it is just ridiculous. [It has] really hurt … just sad.
"We don't have our strongest team without Pollard or Bravo. It is a really big blow for us to actually lose two key players." Gayle added: "I don't know what's the history behind it, but it is a ridiculous selection from my point of view … with two of our biggest players in ODI cricket not involved in the 50-over format and the World Cup."
Around the Web