It was the night of Friday the 13th. The venue was the National Cultural Centre (NCC), the event was the National Sports Commission's (NSC) recognition ceremony for the nation's top athletes, administrators and media personalities but in full campaign mode government officials also used the opportunity to highlight the People's Progressive Party's role in providing sports facilities for the country's sportsmen and women.
"The Government of Guyana (GoG) is pleased that it has made a positive investment in sports and will continue to build more facilities for the development of sports locally," said Dr Frank Anthony, the Minister of Culture, Youth and Sport whilst delivering the feature address.
"The government wants to work with all national and regional bodies to ensure the development of sport and to ensure everyone is involved in sport, that every child is involved in sport.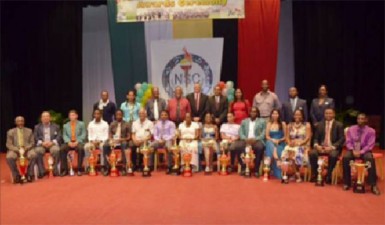 "We want the parents to get their children involved and moreso the community and I cannot emphasize any more on how important this is," Dr. Anthony added.
Director of Sport Neil Kumar also weighed in.
"Ladies and gentlemen there is no doubt that all of us are aware that since the government has facilitated all these facilities and more, our athletes have shown unprecedented development.
"This has manifested itself in the form of outstanding performances on the international scene and will continue to do so," said Kumar who has been the Director of Sport since the PPP/C swept to power at the 1992 polls.
The Guyana Rugby Football Union was the toast of the awards ceremony. They had enjoyed unprecedented success when the panel met last month to select last year's top performers carting off the coach of the year award through Theodore Henry, the male sports official of the year award through GRFU president Peter Green, the most improved association award, the association of the year award and the sports team of the year award.
Other awardees Friday night were Guyana and West Indies left-arm orthodox spinner Veersammy Permaul, who was voted Sportsman of the Year, athlete Cassie George, who won the double being the Junior as well as the Sportswoman of the Year, Kristian Jeffrey, of the Guyana Motor Racing and Sports Club who was voted the runner-up Sportsman of the Year, Alisha Fortune who was voted the runner up Sportswoman of the Year, squash player Akeila Wiltshire, the runner-up Junior Sportswoman award, athlete Jason Yaw, the Junior Sportsman of the Year and cricketer Shimron Hetmeyer the runner up junior Sportsman of the Year.
Calvin Thomas won the outstanding athlete with disability award while Stabroek News' Orlando Charles and Emerson Campbell won the best photographer and print journalist awards respectively while Guyana Television Channel 28's Avenesh Ramzan won the Best Sports Journalist (non-print)award.
NSC's Chairman and former national hockey player Conrad Plummer chaired the ceremony.
Around the Web