COUVA, Trinidad, CMC – Jason Mohammed's fifth first class hundred rallied Trinidad and Tobago Red Force on the opening day of their final round WICB PCL game against Leeward Islands Hurricanes here yesterday.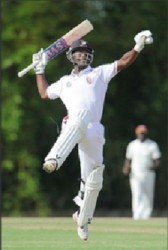 The right-hander struck 143 not out as the hosts, winning the toss and batting, were dismissed for 291 at the National Cricket Centre.
At the close, the Leewards were 13 without loss in reply.
Mohammed's innings was especially required after T&T slumped to 104 for five. The 28-year-old then posted three crucial stands, adding 57 for the fifth wicket with Steven Katwaroo (14), 43 for the seventh with Akeal Hosein (16) and another 57 for the ninth with Marlon Richards who scored 23.
All told, Mohammed smashed 17 fours in a fantastic knock spanning 188 balls and 260 minutes.
Off-spinner Rahkeem Cornwall was the best batsman with three for 78 while seamer Quinton Boatswain (2-24) and leg-spinner Anthony Martin (2-44) supported with two wickets apiece.
Scoreboard
T&T RED FORCE 1st Innings
M Deyal c Thomas b Louis 10
Imran Khan c Liburd b Boatswain 30
J Solozano c Thomas b Boatswain 13
K Ottley c Thomas b Cornwall 12
J Mohammed not out 143
Y Ottley c Liburd b Cornwall 4
+S Katwaroo c wkp Hamilton b Tonge 14
A Hosein c wkp Hamilton b Peters 16
*R Emrit lbw b Martin 14
M Richards lbw b Martin 23
S Gabriel c sub (A Saunders) b Cornwall 2
Extras (b4, lb3, w1, nb2) 10
TOTAL (all out, 79.4 overs) 291
Fall of wickets: 1-15, 2-53, 3-60, 4-90, 5-104, 6-161, 7-204, 8-229, 9-286, 10-291.
Bowling: Tonge 14-2-56-1, Louis 10-0-47-1, Boatswain 7-1-24-2, Cornwall 27.4-5-78-3, Peters 11-2-35-1, Martin 10-1-44-2.
LEEWARDS 1st Innings
L Richardson not out 6
S Peters not out 5
Extras (b1) 1
TOTAL (without loss, 3 overs) 12
Bowling: Gabriel 2-0-10-0, Hosein 1-0-1-0.
Position: Leewards trail by 279 runs with all ten wickets intact.
Toss: Red Force.
Umpires: D Ramdhanie, R Wimalasiri.
Around the Web