CHENNAI, India, CMC-West Indies offspinner Sunil Narine will know by tomorrow if he will be allowed to ply his trade in the new edition of the Indian Premier League (IPL) which starts next week.
Narine has completed a fresh testing process on his bowling action at the Sri Ramachandra Universtity, an ICC-accredited centre, in Chennai on Thursday, according to reports from India.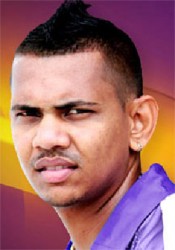 The reports from the test were likely to be submitted yesterday, and by tomorrow, the BCCI's sub-committee dealing with suspect bowling actions will finalise its decision on whether Narine would be available to play for Kolkata Knight Riders this IPL.
Narine was twice called for having a suspected illegal bowling action during last year's Champions League Twenty20 here and was eventually banned from bowling in the final.
However, he was subsequently cleared by cricket's world governing body, the International Cricket Council.
However the BCCI has dismissed the ICC report.
Reports from India say Narine appeared in front of the BCCI's sub-committee which deals with suspect bowling actions- headed by former India fast bowler Javagal Srinath and includes former India captain S Venkataraghavan and ex-international umpire AV Jayaprakash.
Srinath's panel observed Narine in real time and also put him through various tests with the entire process lasting for less than two hours.
Narine remains the most valuable player for Knight Riders, the defending IPL champions, who will play Mumbai Indians in the tournament opener on April 9 at Eden Gardens.
Around the Web