The Guyana Volleyball Federation (GVF) will hold trials on Saturday at the National Gymnasium to select the senior male and female national squads.
According to press release, the sessions will be conducted by National Coach Levi Nedd, from 9:00am on Saturday.
Players from the respective associations affiliated to the GVF are urged to be early for registration which takes place before the sessions begin.
Nedd, who is also the chairman of the GVF's selection committee, says it is hoped that by the end of the sessions on that day, the federation's selection committee would be able to identify players to form squads of at least 20 players in the two categories.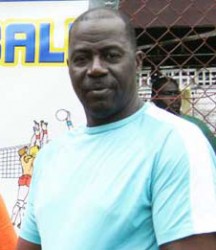 The squads will then be provided with information about the various systems that Guyana will use and the practice/training schedules to enhance their skills and physical conditioning.
He further pointed out that the players named will not be "solely" the pool from which the national teams will be selected as there are opportunities for others, based on their performances in the various competitions organized by the federation or sub associations.
It is expected that the male and female national teams will be sent to participate in competitions organized by the CSV (South American Volleyball Confederation) later this year.
Meanwhile, the GVF will hold a Fun Volleyball event on Sunday at the National Gymnasium in observation of Olympic Day 2015. Teams from Berbice, Demerara and Essequibo are expected to participate.
Volleyball has been an Olympic sport since 1964 when it was played at the Tokyo Olympics. Volleyball was invented by William G. Morgan of Massachusetts, USA on February 9th, 1895.
Around the Web